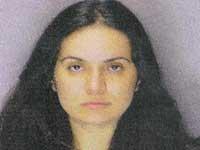 Margaret De Barraicua, a 30-year-old female teacher in Sacramento, has been charged with having sex with a 16-year-old male student of hers. The male is said to be a special education student and initial reports are that it was a consensual relationship. De Barraicua faces felony charges of statutory rape.
This seems to be a growing phenomenon as more female teachers are exposed as sexual predators and pedophiles.
Prior incidents I have covered include the February 10 arrest of Pamela Joan Rogers Turner accused of molesting a 13-year-old, Tammy Imre accused of molesting an 8-year-old and probably most famous Mary K. Letourneau who was recently found to be planning an April 16, 2005 marriage to her prior 12-years-old child lover, Vili Fualaau, who is now a legal adult.
I question whether this is a new thing or if there has just been an increase in law enforcement attention towards these incidents. Maybe in the past when these incidents were reported, prosecutors just found it too hard to put a believable case together or maybe they were just shrugged off as a "hot teacher" joke. Either way recent convictions of these female teachers has seemed to shed light on the problem -- exposing it -- and making it more likely to be brought to a court of law.
A 30-year-old female intern teacher at McClatchy High School was arrested Saturday and accused of having sex with a 16-year-old male student in her car, while the woman's 2-year-old child was strapped into a safety seat in the back, authorities said.

Margaret De Barraicua faces felony charges of statutory rape. Detectives believe De Barraicua and her student have been having "an ongoing consensual sexual relationship for several months," said Sacramento police spokesman Sgt. Justin Risley.

The teenager is in a language and arts class that De Barraicua has taught since September when she started her paid internship at McClatchy High.

De Barraicua, who is married, was placed on paid administrative leave Tuesday pending the outcome of the investigation, said Maria Lopez, a spokeswoman for the Sacramento City Unified School District. "The school district took immediate action and dedicated resources to help the police in their investigation," Lopez said.

Before the internship, De Barraicua worked in the district for about two years as an substitute teacher. Her internship is through a partnership with California State University, Sacramento, where she takes classes, and the school district.

Interns are required to go through the same background checks as credentialed teachers.

...

The investigation began Saturday after police received a report of a suspicious tan Nissan Maxima parked behind Leonardo Da Vinci Elementary School at 4701 Joaquin Way in Hollywood Park.

Just after 5 p.m. officers found the windows of the car steamed up. They could see two people moving inside, Risley said.

When the car door opened, officers found De Barraicua, the 16-year-old and the toddler.

De Barraicua was arrested on one count of felony statutory rape. She has since been released from custody. The 2-year-old boy was released into his father's custody.
Other Diggers Realm entries on Margaret De Barraicua:
Nov. 20, 2005
Margaret De Barraicua, Teacher Who Molested Special Education Student, Sentenced To 1 Year
Sep. 16, 2005
Former Teacher Margaret De Barraicua Pleads Guilty To Unlawful Sex With A 16-Year-Old Special Education Student
Mar. 2, 2005
Teacher Margaret De Barraicua Arraigned On Child Sex Charges
Tipped by: The Education Wonks
Other Commentary: