NY ICE
(New Yorkers For Immigration Control and Enforcement), took to the streets on May 1st to counter protest the throngs of communists, pro-illegal aliens and other assorted racist and socialists groups marching down the streets of New York City. NY ICE does this every year and its president Joanna Marzullo is a real gutsy woman. As you can see in the video below, the party of "tolerance" isn't quite tolerant of those with differing opinions.
The members of NY ICE are verbally assaulted, taunted, threatened, have water thrown on them, are spit upon and assaulted as they have their signs ripped from their hands and torn apart all while a flag of the Soviet Union is waved in their faces and throngs of illegal aliens "in the shadows" shout about how they're not illegal.
Here's Joanna in her own words on what happened and the video is below? How many of you out there would be willing to stand as Joanna did, staring into the face of hate and racists?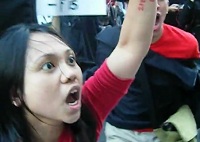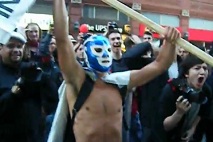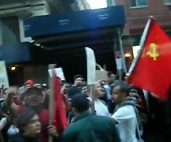 NY ICE (New Yorkers for Immigration Control and Enforcement) conducted its annual May 1st COUNTER PROTEST on May 1, 2012.

Far from being "undocumented and unafraid", as they like to call themselves, pro-amnesty supporters were ILLEGAL AND VIOLENT.

We were spat on and had water and water bottles thrown at us.

Also, the footage will shown the NY ICE banner being torn, to the glee of the adversary.

A girl in pink runs behind the President of NY ICE, Joanna Marzullo, and then throws the NY ICE sign to the ground, and then retreats into the crowd. The footage will show that as well. The President of NY ICE is saying repeatedly that NY ICE "... is what courage looks like", since it was just the few of us against the 100's of them.

Joanna, President

NY ICE Assaulted by Illegal Alien Supporters in New York City

Update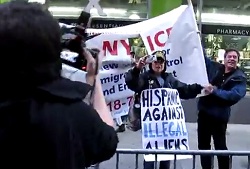 After posting the above I was sent a video from the other side that I have uploaded to YouTube. In the video you can hear the crowd shouting "Burn in Hell!", "Throw shit at her!", "Burn that shit!", "Fuck you, you fucking rednecks", "Go back to Europe!", "Hey hey, ho ho, these racist pigs have got to go". Then there are loud cheers as they tear the sign out of their hands ripping a hole in it and an even louder cheer as one lady jumps the barricade and attacks the sign ripping it in half. You can then see then throwing water on them and screaming "Fuck you!!"

And yes, as you can see in the picture to the right, Joanna Marzullo is indeed wearing a sign that says "Hispanic Against Illegal Aliens"

The group

We (The United States) put ourselves in this predicament. Our government engineered NAFTA which allowed our economy to boom at the expense of our brothers to the south. The economy is so horrible in Latin American countries that people are fleeing into the U.S out of desperation. These people are living a precarious existence at best, just as the majority of us are right now, even in our country - the RICHEST in the world.

http://www.cato.org/publications/commentary/immigrants-have-enriched-american-culture-enhanced-our-influence-world

http://economyincrisis.org/content/illegal-immigration-and-nafta

To oppose any immigrant movement (or any movement at all) without first educating yourself about it and it's root cause is pure insanity and makes you a part of the problem. Immigrants are tired of being treated like "3/5 persons" (sound familiar?) while corporations are legal "persons" yet have more rights than an actual individual does. There are severe problems not only in our nation, but in the entire world right now. Stop the ignorance. Stop the bigotry. Stop the fear-mongering. Be a part of the solution. Be a part of the future of humanity. It is time to wake up.

sociopathicrevolutionary -
www.proletarianrevolution.com

Posted by: sociopathicrevolutionary on May 8, 2012 06:58 PM