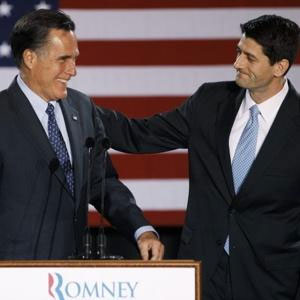 Presidential Candidate
Mitt Romney
has reportedly picked Congressman
Paul Ryan
of Wisconsin as his running mate for the 2012 election. Ryan is the chairman of the House Budget Committee and been in congress since 1999. Recently he has been on the fiscal warpath introducing a budget plan that cuts a ton of waste and aims for a balanced budget. Part of the bill includes an overhaul of Medicare. Upon introducing the bill the liberals came up with a quaint little advertisement you may remember from mid 2011 that showed an actor portraying Paul Ryan pushing an old lady - "grandma" - off a cliff.
I personally think that from a reasoning and logical position Paul Ryan was a good choice. He compliments Romney in terms of fiscal policy and will allow Romney to focus on other issues. It is like a CEO hiring a very fiscally responsible COO or CFO to take care of all the details while he focuses on the task at hand of building the business.
From a political standpoint, in this day and age of celebrity, Ryan may prove a disaster. Of the short list of VP potentials that were floated around almost none of them carried any star power or excitement other than Florida Senator Marco Rubio. Rubio has turned out to be the typical wolf in sheep's clothing when it comes to the ongoing disaster of the Republican Party in this country. In the typical fashion of trying to take both roads when it comes to immigration, Rubio talked tough and then turned around and pushed for a Republican version of the "DREAM Act" that would give illegal aliens amnesty. The other was Congressman Allen West, but many dismissed him as being too tough for Romney to handle.
How Ryan stands up when it comes to his assertiveness before the cameras during the campaign could make all of the difference in the outcome of the election. From what I've seen of Ryan he can hold up under pressure, but he really does not make me want to get up and take any action. There is no spark there and in the end that is what truly the Romney campaign needed. At least with Joe Biden for Obama he demands attention - even if it is for his idiocy, flubs and general unintellectual babble.

Update:
Just something to keep in mind in addition as the rhetoric starts. Not that Ryan is on the top of the ticket, just as Palin wasn't. When you hear them mention Ryan as a "Tea Party" candidate. He's been in congress for 14 years, in other words long enough to have been part of the decline of America since the boom. He dubs himself as a fiscal conservative, yet he supported numerous things that a fiscal conservative would never support. As always watch their actions, not their words.
Ryan voted for the TARP bailout.
Ryan voted for the auto bailout.
Ryan voted for the extension of unemployment benefits.
Ryan voted for housing subsidies.
Ryan voted for No Child Left Behind.
Ryan voted for the 2008 and 2009 bailouts.
Of other concerns to some: he voted for making the Patriot Act permanent, surveillance without warrants and remaining in Iraq.
---

A Republican with knowledge of the development confirmed the selection to the AP, hours ahead of an official announcement at 8:45 a.m. during a campaign stop Saturday morning in Norfolk, Va. Romney will then launch his "The Romney Plan For A Stronger Middle Class" bus tour.

The selection comes roughly two weeks before the start of the Republican National Convention in Tampa, and gives Romney plenty of space to rally the party behind his pick before the official nomination.