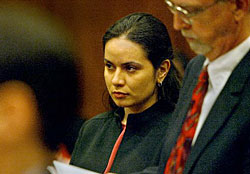 Photo Courtesy of Sacramento Bee
Margaret De Barraicua, a 30-year-old female teacher in Sacramento, pleaded guilty to 4 counts of unlawful sex with a minor. She admitted to having sex with a 16-year-old male special education student behind an elementary school while her 2-year-old child was in the backseat. De Barraicua was
arrested February 2005
. She was
arraigned on March 2, 2005
and freed on $20,000 bail. At the time of the arraignment she did not enter a plea.
Under the recent plea deal she faces up to 16 months in jail when she is sentenced November 18, 2005.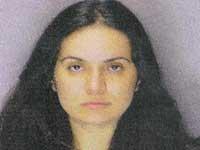 San Jose Mercury News
Under an agreement with prosecutors, the former McClatchy High School teacher pleaded guilty Wednesday to four counts of unlawful sex with a minor.

The plea came on the day De Barraicua was to go on trial for having sex with a 16-year-old student four times between Sept. 1 last year and Feb. 18. Sacramento police arrested De Barraicua after finding her parked with the student behind an elementary school.

She told police she first had sex with the boy at her home and three other times in her car.

Prosecutors said the case was aggravated by the fact that De Barraicua took advantage of her vulnerable student.

She declined to talk with reporters, but her lawyer said she was glad it was over.

"She wants to take responsibility for what she did," said attorney Philips Cozens.
Other Diggers Realm entries on Margaret De Barraicua:
Nov. 20, 2005
Margaret De Barraicua, Teacher Who Molested Special Education Student, Sentenced To 1 Year
Mar. 2, 2005
Teacher Margaret De Barraicua Arraigned On Child Sex Charges
Feb. 24, 2005
Teacher Margaret De Barraicua, 30, Arrested For Having Sex With 16-Year-Old Boy [Pic]
Other recent incidents I have covered include the February 10 arrest of Pamela Joan Rogers Turner accused of molesting a 13-year-old, Tammy Imre accused of molesting an 8-year-old and Debra Lafave, the newlywed teacher who was arrested June 21, 2004 for having sex with a 14-year-old student.
Also be sure to see other sickos in the Diggers Realm Sicko Archive
Tipped by: Interested-Participant