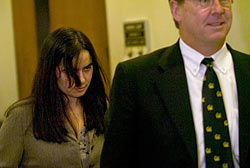 Margaret De Barraicua, the teacher who carried on a sexual relationship with a 16-year-old special education student was sentenced to 1 year in jail. The relationship was said to be consensual.
De Barraicua was arrested Feb. 24, 2005 behind Leonardo Da Vinci Elementary School in Sacramento, California. Her 2-year-old child was strapped into a safety seat in the back at the time of the arrest.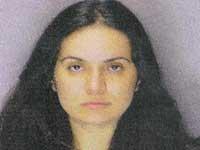 KXTV


A former McClatchy teacher intern was sentenced today to 365 days in the county jail as part of a plea deal. Margaret De Barraicua pleaded guilty to four felony counts of statutory rape.

De Barraicua was also sentenced to five years formal probation. She has to appear at the jail to begin her sentence on December 2.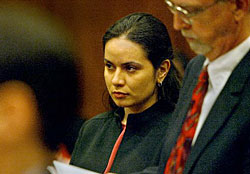 Other Diggers Realm entries on Margaret De Barraicua:
Sep. 16, 2005
Former Teacher Margaret De Barraicua Pleads Guilty To Unlawful Sex With A 16-Year-Old Special Education Student
Mar. 2, 2005
Teacher Margaret De Barraicua Arraigned On Child Sex Charges
Feb. 24, 2005
Teacher Margaret De Barraicua, 30, Arrested For Having Sex With 16-Year-Old Boy [Pic]

Tipped by: Interested-Participant

She should put in a public Pillory for two days each month as part of her sentance no breaks and giving a good pelting with rotton tomatoes.
Posted by: Tim on March 2, 2011 05:52 PM