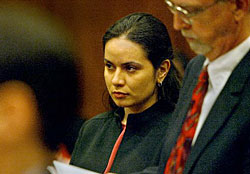 Photo Courtesy of Sacramento Bee
Margaret De Barraicua, 30, the teacher who
was arrested
while performing a sexual act with a 16-year-old student while her two year old toddler was in the backseat, was arraigned on Monday.
She was charged with 4 counts of statutory rape and has been released on $20,000 bail. De Barraicua did not enter a plea.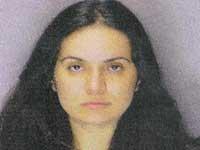 Sacramento Bee
De Barraicua is accused of having sex with the McClatchy High School student four times from Sept. 1 to Feb. 19, when she was arrested. Police found her with the student in a parked car behind Leonardo Da Vinci Elementary School.

De Barraicua, who has been on paid administrative leave, faces punishment if convicted that ranges from probation to three years in prison.

Under the penal code, she is accused of having sexual intercourse with a minor more than three years younger than she, a crime which is considered a "wobbler" under criminal law, meaning it can be prosecuted and sentenced as either a felony or a misdemeanor.

Police have said they believe the teacher and the male student had an "ongoing consensual sexual relationship."

...

Defense attorney Philip Cozens said after the court hearing that his client cooperated with officers when questioned.

"She is very concerned about the welfare of the young man and is very sorry about this entire incident," Cozens said.
I'm sure every criminal is "very sorry" about being caught as well. If she would have known she was going to get caught I'm sure the "entire incident" wouldn't have happened.
Other Diggers Realm entries on Margaret De Barraicua:
Nov. 20, 2005
Margaret De Barraicua, Teacher Who Molested Special Education Student, Sentenced To 1 Year
Sep. 16, 2005
Former Teacher Margaret De Barraicua Pleads Guilty To Unlawful Sex With A 16-Year-Old Special Education Student
Feb. 24, 2005
Teacher Margaret De Barraicua, 30, Arrested For Having Sex With 16-Year-Old Boy [Pic]
Other recent incidents I have covered include the February 10 arrest of Pamela Joan Rogers Turner accused of molesting a 13-year-old, Tammy Imre accused of molesting an 8-year-old and probably most famous Mary K. Letourneau who was recently found to be planning an April 16, 2005 marriage to her prior 12-years-old child lover, Vili Fualaau, who is now a legal adult.
Also be sure to see other sickos in the Diggers Realm Sicko Archive