You may remember the case of Jose Ernesto Medellin from back in October when President Bush came out in favor of this member of the Latino gang the Black and Whites, when Mexico demanded a retrial in his death penalty case.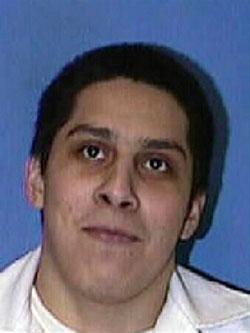 Jose Ernesto Medellin,
Illegal Alien Rapist and Murderer
Jose Ernesto Medellin was involved in the brutal gang rape and murder of two teenage girls found wandering on a railroad trestle alone in 1993 in Texas.
President Bush actually came out backing the Mexican government's complaint that Medillin was not allowed to consult with the Mexican Consulate during his trial. A shameless act by our president siding with an illegal alien killer and foreign country over the American Citizens who were raped and murdered at his hands.
You'll also remember that President Bush lied to the face of the father of one of the girls. Randy Ertman shook Bush's hand when he was running for President and asked George Bush if he would ensure that Medellin would remain on death row. President Bush told him he would make sure. "He shook my hand and lied," Ertman said. It was an outrageous act by this president and every American should be disgusted.
However, there is now good news that there is actually someone in a leadership position who still cares about the sovereignty of our country and the laws therein. The Supreme Court has ruled that Medillin will face the death penalty in Texas.
The only unfortunate thing is that it is not happening right now... behind a building... with an instant bullet to the head.
Below are Texas representatives Ted Poe and Michael McCall talking about the decision on Lou Dobbs.