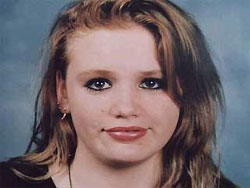 Randy Ertman
, the father of
Jennifer Ertman
who was killed by illegal alien gang member
Jose Ernesto Medellin
, says he feels betrayed by President Bush. Randy Ertman shook Bush's hand when he was running for President and asked George Bush if he would ensure that Medellin would remain on death row. President Bush told him he would make sure.
Now President Bush is going along with an international court decision to take killer Medellin off death row because of complaints by the Mexican government and Medellin who claims he was not allowed to talk to the Mexican Consulate during his trial, something he never asked for at the time. He's just a "convenient Mexican". Medellin confessed to the gang rape and killing of Jennifer Ertman and Elizabeth Pena along railroad tracks in 1993.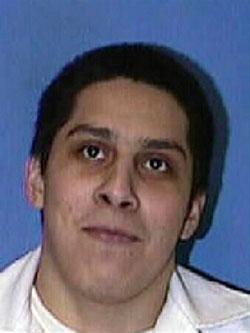 Fox News
The father of a 14-year-old Texas girl who was raped, sodomized and then strangled with a belt and shoe laces, wants to know why President Bush supports halting the execution of the Mexican national who confessed to killing his daughter and her friend.

"Our daughters are just pawns in a game that we have no control over," Randy Ertman, father of Jennifer Ertman, told FOX News. "What can I say to the president of the United States or the Supreme Court that would make any difference?"

...

"It is inexplicable that the president of the United States, our former governor, would turn his back on the families and on these victims and side with the world court and the Mexican government," said Dianne Clements, president of Houston's Justice for All, a criminal justice reform organization.

...

Clements, who maintains contact with the families, said the group worked closely with Bush during his tenure as governor and she has no idea why the president took this position.

Bush's decision not only sets him apart from Texas, but from a conservative stance, Clements said.

"He has done a complete flip flop on this and turned his back on his very conservative base and is siding with the Mexican government over crime victims," Clements said.

Ertman said he feels betrayed by Bush's decision. Ertman shook Bush's hand when he was running for president, asking him if he remembered the girls and if he would keep their killers on death row. Bush said he would keep them on death row, Ertman said.

"He shook my hand and lied," Ertman said.

Hello everyone, I'm sorry if I might sound a little rude or out spoken but I think that those bastards need to go striaght to hell for what they did to those girls! Noone not even the enemy deserves that kind of treatment! I have so much hate in my heart for those guys, i feel that they should duffer the same pain your girls had to endure. I never knew anything about this story I'm only 17, so I was a baby. But my cousin told me about it the other day, so I went out to buy the book and I;m so angry. I'm very very very sorry for your lost, I will keep you guys in my prayers even though t was years ago, I can imagine the hurt you still feel. Just know that God loves you, and those guys will be punished for what they did! That bitch dead now so...we just got t get the other ones where he aint that sick bitch
Posted by: Sherrell Thierry on November 25, 2008 05:06 PM