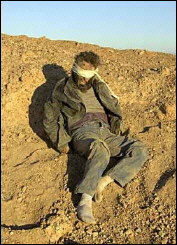 A formerly unknown terrorist group calling itself
Islamic Movement of Iraqi Mujahedeen
has claimed to have killed an Italian hostage. Salvatore Santoro, 52, of the southern Campania region near Naples has claimed to have been killed by the group. His passport was shown to a photographer who took pictures, but there has been no confirmation because in the photographs the face is covered. He was
very recently taken hostage
.
An Italian hostage identified as Salvatore Santoro has been killed by an Islamist group in Iraq, Al-Jazeera television said quoting a statement from the group and showing footage of the man.

The Qatar-based station broadcast pictures of Santoro's passport and showed him sitting bound and blindfolded in a ditch with a gun to his head.

In separate footage, four masked and armed men were shown reading a statement.

Quoting a statement from the "Islamic Movement of Iraqi Mujahedeen", Al-Jazeera said Santoro had been killed and the group had found evidence that he supported the Americans. It did not give further details.

...

A group of terrorists took the photographer to Ramadi, in western Iraq, "where they showed him the body of a man and a passport.

"The document was in the name of Salvatore Santoro, born in Naples on the 10th of January 1952, an Italian citizen who had lived for several years in Britain", the minister added.

The corpse's face was covered in the pictures taken by the photographer so that no clear comparison could be made with the passport photo, Fini said.
It seems odd that the statements by the terrorists were in a separate edited in portion of the video. Unlike the beheading videos it is not one fluid scene and the fact that confirmation could not be made because the face was covered is rather strange.
Tipped by: The Jawa Report
Darleen over at Darleen's Place is disturbed at the coziness AP has with these terrorist groups.
Other Commentary:
Expect updates when further developments occur.
---
Related stories on Diggers Realm:
September 08, 2004
Two Italian Women And An Iraqi Woman And Man Taken Hostage In Iraq
September 10, 2004
Italian Aid Worker Hostage Update, Threats Made Against Denmark
September 13, 2004
Latest On Italian Women Being Held Hostage In Iraq
September 19, 2004
Italian Women Being Held Hostage In Iraq Sold To Zarqawi?
September 23, 2004
Please Be Wrong. Rumor Of Italian Women Hostages Beheaded
September 26, 2004
Italian Women Being Held Hostage In Iraq "In Good Health"?
September 28, 2004
Simona Pari and Simona Torretta, Italian Hostages, Released!
September 29, 2004
Did Italy Pay A Ransom For Simona Pari And Simona Torretta?
August 26,2004
Italian Hostage Killed, Killers To Taste Real Point Of A Knife