| | |
| --- | --- |
| By / September 23, 2004 06:58 AM | |
I saw this headline last night when
Rusty
posted it and I was walking out the door to my kids
Back to School
. It pretty much put a damper on everything for me and was a sullen night. I came home and decided not to write anything about it, watched some TV and went to bed. It kept bugging me though.
I've been covering these girls since they were taken and almost feel as if I know them personally and then this...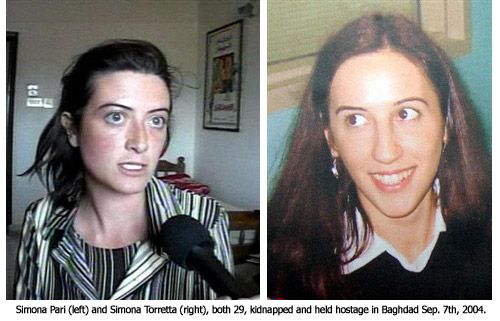 Italy's government tried to reassure an anguished nation Thursday that two women hostages in Iraq were most likely still alive, saying an Islamist group's claim to have killed them was "unreliable."

...

"We in the Jihad Organization in Iraq announce that God's verdict has been passed on the two Italian prisoners by slaughtering, after the Italian government headed by the vile Berlusconi did not listen to our one condition to withdraw from Iraq," it said.

A group calling itself Ansar al-Zawahri or Supporters of Zawahri, later said in a statement posted on a Web site rarely used by Islamists, it had beheaded the Italian women and would soon post a video of the killing.

"The two Italian spies have been decapitated with a knife and without any sympathy or mercy," the lengthy statement said. Ayman al-Zawahri is number two in al Qaeda.
Rusty doesn't seem to doubt the claim, but I do. There were rumors of them being sold to Zarqawi as well, so who the hell knows.
---
Update:
Related stories on Diggers Realm:
September 08, 2004
Two Italian Women And An Iraqi Woman And Man Taken Hostage In Iraq
September 10, 2004
Italian Aid Worker Hostage Update, Threats Made Against Denmark
September 13, 2004
Latest On Italian Women Being Held Hostage In Iraq
September 19, 2004
Italian Women Being Held Hostage In Iraq Sold To Zarqawi?
September 23, 2004
Please Be Wrong. Rumor Of Italian Women Hostages Beheaded
September 26, 2004
Italian Women Being Held Hostage In Iraq "In Good Health"?
September 28, 2004
Simona Pari and Simona Torretta, Italian Hostages, Released!

This entry is in the following archive(s):
Next and Previous Entries:
Posted by Digger on September 23, 2004 06:58 AM (Permalink)

THOSE WOMEN DID NOT DESERVE THAT DEATH, NOR ANY OTHER. WHY DON'T WE CAPTURE THOS E BASTARDS AND BEAT THE FUCK OUT OF THEM WITH A CHRISTIAN BIBLE AND COMPELL THEM TO RECITE EVRY WORD IN MATHEWS.
HEY, YOU JACKOFF MUSLIMS IN IRAQ AND THE UNCIVILIZED EAST, YOUR RELIGION WILL BE WIPED OFF THE FACE OF THE EARTH WITH A NUKE. MOHAMMAD DESCENDED TO THE SEVENTH HELL YOU FUCKED UP PIGS. AND ALLAH WAS SATAN. BITCH FUCK ALL OF YOU! COME TO AMERICA STARTING THAT SHIT YOU COCK SUCKERS. SAND EATING WHIMPS. AL ZAHAWARY WHATEVR THE FUCK YOU R NAME IS...................YOU ARE MINE! I'M COMIN FOR YOU! BE READY! BITCH, YOIU AND YOUR LOSER WEAK MINIONS. ALL OF YOU AND YOUR FAMILY ARE DEAD! AND NO ADMINISTRATION OR GOVERNMENT CAN STOP ME. I MOVE TOO FAST!
Posted by: NoaH THE MUSLIM SLAYER on September 23, 2004 08:20 AM
They want that bio weapons bitch freed. I know how to free her, move her trial date up. Try her, convict her, dip the ropes in pigs blood and hang her. Also make a video of it too, in high definition please.
Posted by: Andre on September 23, 2004 06:43 PM
noah right on people who do this kind of thing dont go to heaven they are sent straight to hell we should behead all those bastards. dont hang dr germ, douse her with pigs blood then chop of the bitchs head for all to see on internet.
Posted by: becky doster on September 24, 2004 02:19 PM
Firt off i would like to tell the Families of the men and women that were killed my heart bleeds for you.As for as the Bastards that did this.I hope You burn in hell.And im sure you will. How can our goverment punish our troups for the treatment of prisoners when they are Beheading ours??I believe an eye for an eye.. give them the women they so desperately want. like we get ours back. behead them. im normaly a pieceful person. But these are people that left their familys to go and help them rebuild. I say pull our troups out and everyone that went over to help and drop a bomb on the place and wipe them out..these people have NO values.NUKE THEIR SORRY ASS'S.
Posted by: Robin on September 25, 2004 07:13 PM
NoaH THE MUSLIM SLAYER you are a fucking shit! rot in hell mate
Posted by: ssss on September 19, 2005 05:26 PM
Posted by: ajifcHNJV on May 21, 2006 02:29 PM
WHY THE ITALIAN GOVERMENT PAY TO GET FREE THIS 2 STUPID WOMEN AND THAn THEY SAYS: the people treat us very nice and they were very kindly. shit! women like this can live only in afganistan
Posted by: ITALIANO on March 14, 2007 03:42 PM
WORLD Give Us HANDICAPPED Status/Quota
STRANGE BUT TRUE : Anywhere in the world, where there is unrest, pain, terrorism, suffering, agony, problems or anything bad, Muslim/Mohammedan/Islam are always involved/the root cause. Now, I start to believe, what the once famous Nostradamus said in his prophecies "People (males) who have a tradition of cutting off a vital piece of their private part, will always be the root cause of chaos in this world. It will be them, who will ultimately cause the final destruction of planet earth, before they realise that a vital part of their brain also goes in the process of cutting of this piece of their private part" - Nostradamus : MCMXCVII
I realised all this too late, when my younger son started showing terrorist signs at the age of 10 in school. He would everyday get into fights and later on the Psychologist said that this was the reason. So please stop this I beg you all, before it's too late. If you have any queries/questions regarding this research, please email me at vigeos@tpg.com.au and I shall be most happy to show you the in-depth research papers, I have acquired. Which made me believe, who would never have believed this without seeing this research.
Saleem Durrani

Posted by: Saleem Durrani on July 23, 2007 11:22 PM