The fate of two Italian, pacifist, aid workers who were
taken hostage
may never be known.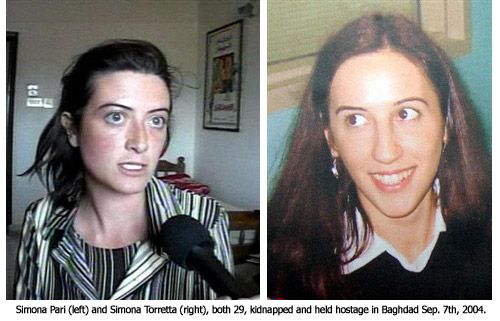 MILITANTS loyal to al-Qaeda's No.2 have given Italy 24 hours to promise to release Muslim women prisoners in Iraq in exchange for details about two kidnapped women aid workers.

"We ask Italy to promise unconditionally to release all Muslim women prisoners from Iraqi prisons. In turn we will give a little information about the Italian female hostages," the Ansar al-Zawahiri group purportedly said through a statement published on a website today.

"The Italian government has 24 hours to reply to our demands, otherwise Italian people will never discover the fate of the Italian women hostages."
Sounds like they've already been executed to me. Why would anyone release prisoners for "a lttle information" on the fates of the hostages?
In addition to this the terrorists make threats towards denmark.
The group also threatened Denmark, saying it was "now the Denmark's turn to have its share of punishment" after "both Italy and Russia have been punished".

Copenhagen maintains 500 soldiers under British command in southern Iraq.
These people aren't that smart. They've been picking up any white person they can find without regards to their ethnicity. They're so scattershot in their methods. Here's their plan:
1) Pick up white hostage.
2) Figure out ethnicity.
3) If useful, make some absurd demand.
Denmark for christs sake! That bastion of evil people in freakin Denmark!
Oh, BTW Rusty you're incorrect. They didn't say they'd kill them they said they'd just give "a little info on their fate". I'll expect a full retraction from you on CBS news tommorow night.
Elsewhere: The Command Post | In Search Of Utopia
---
Update:
Related stories on Diggers Realm:
September 08, 2004
Two Italian Women And An Iraqi Woman And Man Taken Hostage In Iraq
September 10, 2004
Italian Aid Worker Hostage Update, Threats Made Against Denmark
September 13, 2004
Latest On Italian Women Being Held Hostage In Iraq
September 19, 2004
Italian Women Being Held Hostage In Iraq Sold To Zarqawi?
September 23, 2004
Please Be Wrong. Rumor Of Italian Women Hostages Beheaded
September 26, 2004
Italian Women Being Held Hostage In Iraq "In Good Health"?
September 28, 2004
Simona Pari and Simona Torretta, Italian Hostages, Released!