| | |
| --- | --- |
| By / September 7, 2007 03:01 PM | |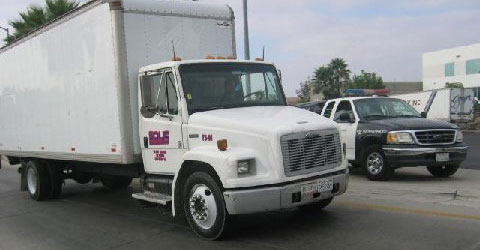 How can you spot a Mexican truck?
With the recent "pilot program" put into action by President Bush, greedy businesses and starving and corrupt unions, you should know how to spot these trucks so that you can stay away from them on the road. They are unsafe and protesters have noticed that many make it through inspection with something as simple to catch as bald tires. That's homeland security for you!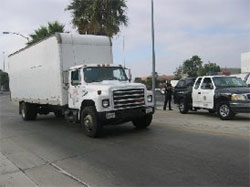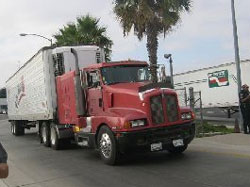 Two Mexican Trucks. Are they Unsafe?
Two ways to spot a Mexican Truck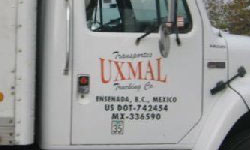 The first way you can spot a Mexican truck is by looking on the side of the door. They are required by law to display both a Department of Transportation number and a Mexican (MX) number. You can see in the photo the Mexican number is located below the DOT number.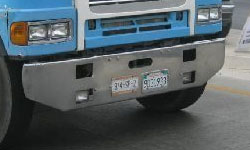 The second way to spot a Mexican truck is by the license plates. As you can see in the image they display two license plates. The one on the left is a Mexican license plate. The one on the right is a US license plate.
Using this surefire way, you too can save your family and yourself from being killed at the hands of a Mexican truck driver who has entered this country in an unsafe vehicle so that he can take an American truckers job, deliver his drugs and illegal aliens into our country and make some greedy businessmen happy.
Pictures courtesy of Robin from the Minuteman Project

This entry is in the following archive(s):
Next and Previous Entries:
Posted by Digger on September 7, 2007 03:01 PM (Permalink)

This is a utter travesty of our constitution and national sovereignty. Bush and who ever pushes NAFTA should be impeached over this. I have gotten sick and tired of Pres. Bush's incompetent social policies. I have stood by him on his war on terror, but he has absolutely no clue about how to run a country. To give in to illegals, unsafe and unchecked trucks from the same border the illegals are coming from is insane.
Yes, we need to fight the war over there, but we also need to protect our homeland over here. We need to elect a strong leader who will defend our nation's laws, borders and its people.
Posted by: captainfish on September 8, 2007 07:59 PM
Bush needs to be prosecuted for treason but of course we
dont have anyone in Congress or the Senate that has a backbone to stand up to this damn insane idiot.
Posted by: Lee on September 9, 2007 12:10 PM
You all need to be prosecuted for excessive stupidity. You don't give a shit about American truckers, or America itself. You disguise your biggoted and racist urges through a love for America and American workers.
"you too can save your family and yourself from being killed at the hands of a Mexican truck driver"
Oh yeah, because everyone knows only Mexicans get into car accidents. Certainly a drunk white teenager who just fucked half his high school has never been the cause of any car accident on U.S. soil. You're all stupid shits and you make me ashamed to be an American. Fuck you.
Posted by: John on May 17, 2009 11:00 PM
Posted by: cabron aka ur daddy putos on April 18, 2010 11:00 PM
Funny, my father died due to mechanical malfunction of a truck owned and maintained by a white American. The malfunction was a result of a shoddy weld that he performed on the trailer that ultimately killed my father.
But I guess I better watch out for those Mexican trucks though.
Posted by: 2crudedudes on February 9, 2011 10:37 AM