| | |
| --- | --- |
| By / September 7, 2007 02:29 PM | |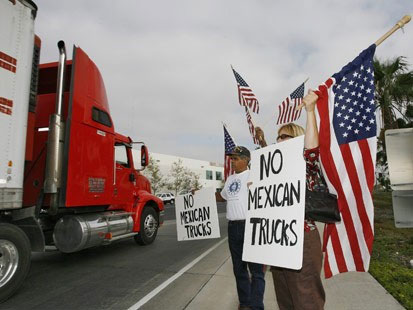 Members of the Minuteman Project protested at the Otay-Mesa border checkpoint where Mexican trucks began rolling into our country yesterday Sep 6, 2007 to travel throughout the nation with no oversight once they've arrived.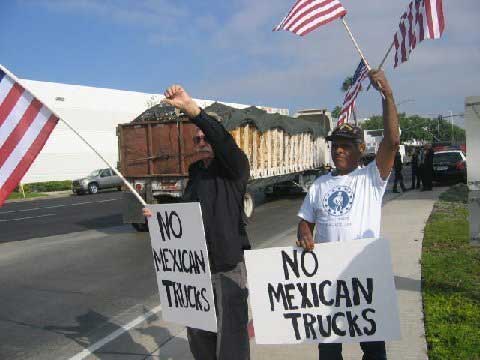 Members of the Minuteman Project Protest Mexican Trucks

Among the very findings they discovered were streams of trucks with bald tires that had just come through the checkpoints. It's good to see that they are being inspected so thoroughly that something as simple as bald tires weren't being caught.
| | |
| --- | --- |
| Mexican Truck Checkpoint | Mexican Truck With Bald Tires |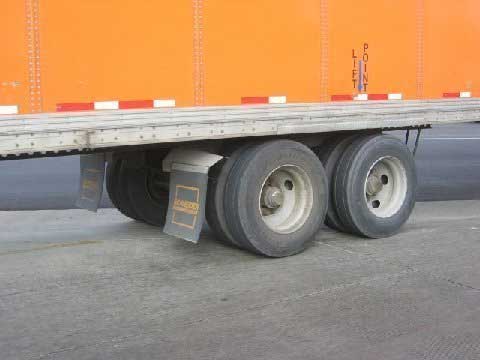 Another Mexican Truck With Bald Tires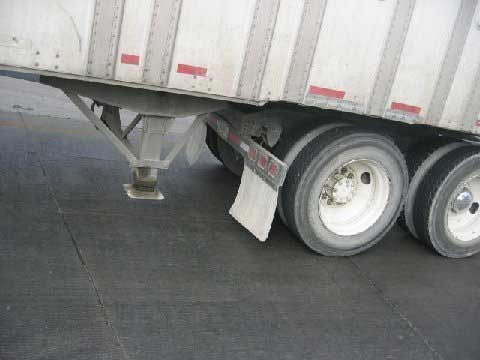 And Yet Another Mexican Truck With Bald Tires

Don't you feel safer now?
Then of course there were the Teamsters themselves who it was discovered by some of the Minutemen yesterday were handing out enrollment information to Mexican truckers to get them to join the union.
| | |
| --- | --- |
| Teamsters Protest Mexican Trucks | Unsafe Indeed! |

So bald tires, unsafe vehicles, unions signing up foreigners and greedy businesses and politicians pushing this through... and some people wonder why American citizens and workers in this country are a little bit pissed off.
Tipped by: Robin of the Minuteman Project


This entry is in the following archive(s):
Next and Previous Entries:
Posted by Digger on September 7, 2007 02:29 PM (Permalink)

So, the teamster unions sue to stop, but when they lose they see it as a win-win as they have an untapped union labor pool. SLIME!
Guess their defense as stated in court was not that strong that they could even take a stand for a few days afterwards.
Posted by: captainfish on September 8, 2007 08:02 PM
It's all part of the SPP program. It's up to congress to put a stop to it all, but they are so stupid they won't bother unless they fear losing their seats. People don't understand the ramifications of lax border security. It's not about the one or two possible Al Quieda that might slip through, it's everything else. Drugs, sick people, unsafe vehicles...
Posted by: Lady Raven on September 10, 2007 01:05 PM
The Orange trailer in the photographs is a Schneider trailer. The company is based out of Green Bay, WI.
I'm a former trucker seen a zillion of 'em.
Posted by: Jammer97 on October 7, 2007 03:52 PM
fuck all u gay people saying no mexican trucks!
mexicans are just comming to live a better life
if u dont want mexicns in America stop asking people to work on your houses because u never see any white people working on lawns or roofs!

From
mexican across the street
Posted by: Marcie on May 4, 2008 10:39 PM
Very interesting indeed... because you guys steal our territory, and suddenly you ain't remember nothing of it... that states are our legal property, so, what's the big deal with the trucks? thousands of US trucks are in mexican roads today, bringing products so you can have more employemente in your factories, that's a very good point, you guys are triying to stop the illegal inmigration right? then, let us work and send you products to have a better economy. belive me, you are not doing us a favor, after all, you are enjoying almost one half of our territory.
Posted by: Ernesto Leon on August 12, 2008 03:05 AM
I don't see what is so wrong with trucks from Mexico. If they are inspected and are cleared, there is no need to be crying about them. You people are so funny, you hate something just because it is associated with Mexico. The Minutemen hate everything besides Nazis like themselves PERIOD!
Posted by: Mike on November 27, 2008 04:00 PM
WWWWWWOOOOOOOOOOWWWWWWW ALL THOS PEOPLE OUT THERE SEEM HONESTLY VERY STUPID THERES NO REASON 4 DOING THAT WHY CRY ABOUT IT IF THEY NO THERES NO WAY 2 STOPPING THE MEXICAN TRUCKS FROM COMING.....................ITS LIKE NOT GIVING CANDY ON HALLOWEEN.............THATS IMPOSSIBLE 2 DO WHO WOULDNT GIVE CANDY ON HALLOWEEN THATS HOW STUPID THEY LOOK STANDING OUT THERE
BUT VERY FUNNY & IM MEXICAN AND VERY DAMMMM HAPPY & PROUD OF BEING MEXICAN........& I THANK THIS COUNTRY FOR GIVING ME ITS ALL BUT I THINK THE PEOPLE FROM THIS COUNTRY SHOULD THANK MEXICO FROM WHAT MEXICO HAS GIVIN IN RETURN :D
Posted by: CRIS.C on January 9, 2009 10:28 PM
WTF?? u guyz racist??? This is my land and once also belonged to the mexicans so if you have a problem with it then why dont yo whites go back to england.. Cuz Im Native american this is my land and i stnd by mexicans............
Posted by: JAYMZ on February 28, 2009 03:10 AM
hahahahahahahaa..it just makes me laugh to see these RASITAS out there saying "no Mexican trucks" seriously yall are STUPID!!!!!.. what yall mean about the trucks that are comine in? what yall have against the Mexican truck? how about yall sending thing to other countries. how would yall feel if another country says "no AMERICAN thigs" how would yall BITCHES feel? and im proud to stand next to my MEXICANS...

Posted by: George Louis on March 14, 2009 11:31 AM
Stupid ass minute men hating on mexicans, yall hate mexicans but you stay eating tacos huh sucka ass white people, If i see a min-men on the street, i'll smash on a slop ass min-men BIATCH
Posted by: 2hell-wit-min-men on March 23, 2009 12:15 PM
You fuckin bitch ass white trailer trash dick suckin muthafuckas i'll fuckin blast every muthafuckin minute men and their fuck kids and wife you bitch ass racist muthafuckers who are 'bout to die bitch click-clack white boy down!! 13 bitches
Posted by: KrazyAzz Mexikans 13 on March 23, 2009 12:23 PM
I got my .45 clip fully loaded. 18 shots, each bullet for a muthafuckin minute man, im tired of all you RACISTass pigs talking shit like we a virus or something, all i know is that im ready to kill a muthafuckin minute man and many more after that, i stay cappin muthafuckas, bitch i got a nation-wide arrest warrant on my name for killin' a fuckin minute man on duty, i stayed shooting that muthafucka in the dome, Muthafucka hit the floor faster than my bullet casings, I got a bullet for each of you bitch ass minute men, COME AND CATCH
Posted by: KRAZY_AZZ_MEXICAN_DOWN_THE_BLOCK on March 25, 2009 12:25 PM
Wut the FUCK!!!!!!the only reason u guys keep sayin dat is cuz all u fukin ppl are jealous of the MEXICans!
Posted by: Roberto on October 18, 2009 05:24 PM
Damn man i cant believe u guys would waste ur time on this worthless SHIT.... MEXICO 4 LIFE BITCH!! fuck wat a hater thought nuff said
Posted by: 2 Krook 4 u on March 23, 2010 11:17 PM
I just came in a mexican truck. we were wrong, they are lots of fun (and safe). I think we need a new strategy
Posted by: charles whitman on May 24, 2010 10:22 PM
Posted by: skndloz on May 27, 2010 01:16 AM
Hi all, know this is a bit old now but the clear pictures only show bald tyres on the trailer, tread mainly matters on the engine cab (front part of truck that pulls the trailers) for breaking and traction, back ones just help it roll along and not drag on the ground. Also why do they need to be holding so many American flags let alone any at all to protest against something foreign. Out of all the protests I have ever seen I have never seen flags involved. Protesters should be showing their message more than their countries flag.
Posted by: Kyle on October 4, 2010 02:24 AM
jaja i cant believe white people are hatin..i mean really what did we do to them...we r tryin to have a good life..helpin clean houses..babysitting..and other shit..without use in america ..their like animals..my opinion..and jaja it reminded mi their like NAZI hatin on JEWISH people..dats not cool..=/...proud to be MEXICANA AND GUATEMALAN =]
Posted by: nayeli on October 23, 2010 07:33 PM
Most of the trailers shown have LEGAL tread-depth tires on them! (Legal is at least 1/16th of an inch...) Kyle is wrong, though, the trailer tires DO help stop the truck, particularly with a full load. The shot of the cab-over, the only shot of a steer axle (which requires a 1/8th inch tread depth minimum) is not from an angle that would show whether or not the tire is (legally) bald...
I'm going by the FMCSA (Federal Motor Carrier Safety Administration) rules here... Also an experienced trucker...
The orange trailer is (or WAS...) a Schneider trailer, as mentioned - but Schneider has been selling off its old trailers for years, and few of the new owners deign to re-paint... (or put new mud flaps on...)
If you're looking for bald tires, just stop into any truck stop - you'll find them! (and on American trucks...)
Posted by: Paul Sullivan on March 21, 2012 01:13 PM