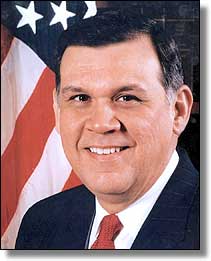 RNC Chairman Mel Martinez, who seems to have only been appointed to win over the Hispanic vote for Republicans in 2008, likes to think that Americans don't want border security and immigration enforcement first. He thinks they want a guest worker amnesty as he was a major sponsor of the recent Comprehensive Immigration Reform bill that would have put the 12-20 million illegal aliens in this country on a "pathway to citizenship".
Mel Martinez has no clue what the American people want. For example this Rasmussen poll on immigration shows that two thirds of Americans want enforcement first and that a good percentage of Americans are "harsh" -- as Mel puts it -- because 40% of respondents also wanted all illegal aliens currently in the United States to be forcibly removed immediately.
Of course you'll want to take a look at Mel Martinez's voting record on immigration just so you'll know what this "new message" he intends to craft is.

"My hope is that I can begin to craft a message that will bring people together on [immigration] -- very tough issue," Martinez said.

...

"There's nothing perfect about the legislation we've been discussing in the past, on any account," Martinez said. "But border security only, enforcement only, harshness only is not the message that I believe America wants to convey."

"I think we didn't always strike the right tone on that. And I think that was a mistake," he said.

I think I know most Americans more than Mel does apparently. All the Americans I talk to want people who break our laws to actually face the consequences of their actions whether they're Black, White, Hispanic, Asian or purple. Apparently ol' Mel Martinez thinks that the Illegal Hispanic community should receive special treatment.
I'm all for diversity, but not when someone who is looking at things totally on a racial level is appointed to a position.
When was the last time you heard of a white person being appointed to a position simply to win the "white vote"?
Republicans may trick 5-10% more of the Hispanics to vote for them simply by putting a Hispanic up there, but I'm telling you right now if they enact a guest worker amnesty I'm betting they lose 30% of their current voters and you'll see a landslide in '08.