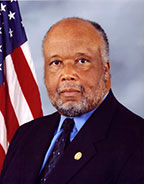 Congressman Bennie Thompson
(MS-D) seems to be the choice of Nancy Pelosi to head up the House Committee on Homeland Security. This is the same Bennie Thompson who
sent a letter to Cintas Corp in November 2006
telling them that if they fired even one of the 400 illegal aliens that were found working at their clothing factory he would file a lawsuit against them sighting "illegal activities in violation of state and federal law".
Cintas discovered the discrepancies when they filed their payroll taxes and the Social Security Administration sent back 400 "no match" notices stating that the employees names and Social Security numbers didn't match. A clear indication that they were illegal aliens. Cintas Corp gave the employees 60 days to clear up the problem or they would be terminated.
In the letter Bennie Thompson said "I am deeply troubled by Cintas' recent policy change regarding the Social Security Administration's 'no match' letters. It is my understanding that hundreds of Cintas' immigrant workers have received these letters. I am extremely concerned about any potentially discriminatory actions targeting this community."
Clearly Bennie Thompson is pro illegal alien. Or is he?
A few days ago when 1,300 illegal aliens were busted at Swift & Company in a raid on 6 of its meat packing plants what did Bennie Thompson have to say?. Did Bennie Thompson write a letter to Swift & Company threatening a lawsuit against them if they fired illegal aliens? Well let us see.

Rep. Bennie Thompson, Mississippi Democrat and incoming chairman of the House Committee on Homeland Security, applauded the raids, saying they sent "a clear message to businesses and employees across the nation that work-site enforcement and hiring only authorized workers is critical to our nation's safety and security."

"It is the duty of employers to ensure they are following the letter of the law and only employing people who have a legal right to be here," Mr. Thompson said.

The two faces of Bennie Thompson.
Tipped by: Thompson vs Thompson
Bennie could be the biggest racist in Mississippi, and he is proud of it. He is a loser and embarassment for the state. All of his elections are bought and paid for. Please move to anothr state, oh,,, they want have you. He is the perfect DEM.
Posted by: Stan Evans on October 11, 2009 01:16 PM