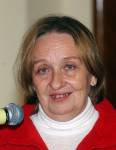 It's always good to see a happy ending to these hostage situations. Teresa Borcz Khalifa showed up in Warsaw, Poland and there is no further information on how she was freed from her captors. The Polish government is not commenting on the actions that led to her release. Reports of
a blond Caucasian woman being cut up and with a slashed throat
led to speculation that it could be the body of Teresa Borcz Khalifa. Obviously those speculations have been laid to rest although now the body is still unknown. There is speculation the body could be that of
Margaret Hassan
, but there have been no reports as of yet that confirm this and I'll reserve my judgement and comments until there is verification.
A Polish woman kidnapped in Baghdad last month suddenly reappeared in Poland today at a news conference with the country's prime minister, saying her captors treated her well but refusing to reveal how she was freed.

...

"It was a very joyous moment for me," she said, smiling but looking tired. "I feel well, very well."
Editors In Pajamas
speculates she may be having Stockholm Syndrome because of statements that she was well fed and kept in a clean room. I don't see that as being sympathetic to her captors, but simply her reporting on the conditions she was kept in.
Tipped by: Outside The Beltway
Other Commentary:
Related Entries on Diggers Realm
Nov. 15 - Blond Caucasian Woman Found Quartered, Disemboweled And Throat Slit In Fallujah
Oct. 30 - Second Video Released Of Teresa Borcz Khalifa, Polish Hostage In Iraq
Oct. 28 - Teresa Borcz Khalifa, Polish Woman, Taken Hostage In Iraq