| | |
| --- | --- |
| By / October 28, 2004 05:01 PM | |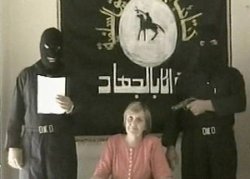 A woman of Polish decent that may be Anerican has been taken hostage in Iraq by a terrorist group calling itself Abu Bakr al-Seddiq al-Salafiya Brigades, named after the first Muslim caliph after the Prophet Mohammad.
A little-known militant group kidnapped an Iraqi-Polish woman in Baghdad and demanded that Poland withdraw its troops from Iraq, a call rejected by Warsaw.

"Of course there is no question of negotiating with the terrorists about the withdrawal of troops or about any other issues," Polish Prime Minister Marek Belka told a news conference after a meeting of the cabinet's crisis staff.

The militants made no explicit threat to kill the woman, named by Polish media as Teresa Borcz Khalifa, but Al Jazeera television aired a video of her seated between two masked men dressed in black, one pointing a gun to her head.

...

The hostage's mother appealed for her release.

"She is guilty of nothing. Hiding behind women, I don't know what sort of men these are. Making demands (by kidnapping) women, no religion has that," Halina Borcz told PAP news agency.
Tipped by: The Jawa Report who is also reporting that Teresa Borcz Khalifa, like Margaret Hassan the Director of Care being held hostage, was a longtime resident of Iraq and married to an Iraqi man.
Other Commentary:

This entry is in the following archive(s):
Next and Previous Entries:
Posted by Digger on October 28, 2004 05:01 PM (Permalink)

What does this militant group expect of a nation that is only trying to help establish an agreed-upon system of government so that tyranny does not take control of a leaderless country???? Iraq is much more than a suspected violator of peace-keeping efforts, thusly additional incidents of violence on the part of these groups will have little or no effect, and can do nothing to further their attempts to have defending troops (foreign or not) removed from Iraq. As we must surmise, what is needed there is co-operation on both sides to allow those efforts to be accomplshed. Diplomacy, in other words, obviously is not the way of these Sunni-Muslim terrorists, so, since unfortunately nothing can be done on any basis until the new government is established, why can't they understand that violence is a criminal offense, not an option to establish a diplomatic agreement, and that as long as the terrorism continues, matters are only going to get worse???? If the militant groups were to wait out the reformation without mor
e hostilities, there is no doubt in my mind that the issues would be resolved to their satisfaction (in that the troops are obviously expected to leave the God-forsaken country of Iraq when their task is accomplished), although such a withdrawl will only come about when that duty is completed so, instead of creating any more animosity between negotiators, I have a suggestion. If the militant group is serious in their quest to have all foreign troops removed (a complete withdrawl could take at least six months or more, and only after the war-making subsides, why don't they show a sign of good faith in their willingness to help end the madness that has taken hold in Iraq by, and, as a gesture either be the first to release any and all hostages (which will definitely get the attention of the United Nations) or at least observe what the foreign forces are doing to help Iraq, before any other rash judgements are religated. I am fairly certain that if the Iraqi revolutionaries were to understand exactly what it is that is being done to help organize their country's political finesse, they would most willingly withdraw their soldiers, so that the troops can complete their mission and leave Iraq for good. Cooperation, in other words, is the one and only way for the group to save Iraq' government from complete collapse, and there is no way that killing their leaders or hostages is going to get them anything (other than perhaps delaying or even canceling the removal of Polish, Italian, Japanese, and/or the United States military from Bagdad and elsewhere in the country). If I had contact information and spoke the language, I would have written the militants directly, although since you may have the resourses necessary for that task, perhaps yone of you could forward this humanitarian plea for peace to the group yourselves. Co-operation is the only logically reasonable solution to this crisis, and since that obviously needs to be explained to them, if you would be so kind as to forward that information to the group (maybe Teresa, the hostage, would care to translate), I certainly would appreciate it as, undoubtedly, would half if not the rest of the world (presuming, of course, that this short message gets the point across). Good day. Best Regards, Dr. B.A. Quinn, PhD., Advocate and Practicioner of the Social Sciences
Posted by: Bud on November 2, 2004 01:00 AM