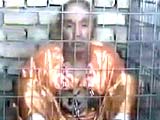 Fox News and
Al Jazeera
are breaking news that hostage Kenneth Bigley has been killed by his terrorist captors.
Kenneth Bigley was taken Hostage with two Americans, Eugene Armstrong and Jack Hensley, on September 16th, 2004. The terrorist group holding him were demanding the release of all Iraqi Women being held in Abu Graib and Umm Qasr jails. The coalition forces have denied there are Iraqi women being held in those jails and claim to hold only two Iraqi women, known as "Dr. Germ" and "Mrs. Anthrax", former Saddam Hussein biological weapons experts.
There was an initial video of Kenneth Bigley pleading to the British government and Tony Blair to intercede on September 22.
A second video of Kenneth Bigley chained and in a cage and pleading for his life was released on September 29th.
There were rumors as recent as last night saying that negotiations were ongoing.
Iraqi Prime Minister Iyad Allawi said on Thursday that fresh developments in the case of British hostage Kenneth Bigley may be near, BBC News 24 television reported.

It quoted Allawi as telling a BBC correspondent in Baghdad that "we're trying very hard" to secure Bigley's release and that "the situation is dynamic".
American Eugene Armstrong
was beheaded
September 20th and American Jack Hensley
was beheaded
September 21st.
My entry and comments on American Eugene Armstrong
My entry and comments on American Jack Hensley
* * *
Update 1 (Oct 8 5:40AM PST)
British diplomats are investigating reports that the British hostage Kenneth Bigley is dead, the Foreign Office has said.

Abu Dhabi Television reported that the militant group led by al-Qa'eda terrorist Abu Musab al-Zarqawi had killed the 62-year-old Liverpool-born engineer, who was taken hostage on Sept 16.
Tawhid and Jihad, a group headed by al-Qaeda terrorist Abu Musab al Zarqawi is the same group that beheaded Eugene Armstrong and Jack Hensley.
* * *
Update 2 (Oct 8 5:50AM PST)
Sky TV, quoting government sources, said Bigley had been killed.
* * *
Update 3 (Oct 8 6:26AM PST)
British hostage Kenneth Bigley has been beheaded near Baghdad, insurgent sources in the rebel-held town of Falluja say. The sources said Bigley was killed on Thursday afternoon in the town of Latifiya, about 22 miles southwest of the Iraqi capital. They declined to say how they had got their information.
* * *
Update 4 (Oct 8 6:49AM PST)
MSNBC is reporting Pentagon sources as saying Bigley was killed in an escape attempt with "others" trying to help him. Could these "others" be special forces? I'm not sure about this report though because MSNBC seems to be the only source I can find on this. Will confirm if true. (tip from Jeff at Backcountry Conservative)
At the Pentagon, meanwhile, U.S. military sources told NBC News that they have reports from Iraq that Bigley might have been killed while trying to escape. The reports indicate that a number of "others" who might have been trying to help Bigley escape were also killed, the sources said.
* * *
Update 5 (Oct 8 7:32AM PST)
Fox News now reporting that a Reuters reporter has a source who has actually seen a video of the beheading. Will develop more and sight sources as they come in.
* * *
Update 6 (Oct 8 7:52AM PST)
Reuters (Hat Tip: Blogs of War
A video released by Muslim militants on Friday showed them beheading British hostage Kenneth Bigley, a Reuters witness said. Bigley was shown making a statement as six militants stood behind him, before one cut his head off with a knife.
* * *
Update 7 (Oct 8 4:40PM PST)
Foreign Secretary Jack Straw said Britain's contact was "an attempt to dissuade them from carrying out their threat" but the hostage-takers stuck to demands for the release of female prisoners in Iraq -- even though Britain holds no women.

...

Blair said hostage-takers must not be allowed to win: "I feel utter revulsion at the people who did this, not just at the barbaric nature of the killing but the way frankly they played with the situation over the past few weeks," he told reporters.

The messages between London and the kidnappers began after a man approached the British embassy in Baghdad four days earlier "presenting himself as a potential intermediary", Straw said.

"I don't believe there was or could have been anything further we could have done," he said.

"Nothing can justify his killing. It is a terrible crime."

...

Iraqi Prime Minister Iyad Allawi said the Tawhid and Jihad group led by Jordanian Abu Musab al-Zarqawi, a suspected ally of Osama bin Laden, had planned to kill Bigley from the outset.

"Their intention from the start was to kill him, but they were trying to exploit this matter for a long time for publicity. Their intention was to kill him," he told Reuters.

"This is a horrible, barbaric act," he said. "We are determined to pursue those terrorists who killed Mr Bigley and put them on trial as soon as possible."

There was speculation that Bigley may have been killed because of a rescue attempt or sweeps by U.S. forces. But Allawi said that while there had been intense efforts to secure Bigley's release, there was no attempt to free him by force.

British officials also denied there a botched rescue bid.

...

In Britain, Bigley's family said it had received "absolute proof" of his killing. His brother Paul urged Blair to end the war in Iraq, saying: "Mr Blair has blood on his hands."
I'm thinking it's Zarqawi that has blood on his hands, but that's just me. If he had been plucked off the street in London and the same grisly act perpetrated would this also be Tony Blairs fault? Did Tony Blair force kenneth Bigley into Iraq? While you may disagree with the Iraq invasion, don't confuse the two issues of Zarqawi's beheadings and the Iraq conflict. Zarqawi is al-Qaeda and they will kill westerners wherever they find them.
Others Covering:
| Six Meat Buffet | Backcountry Conservative | Blogs Of War | The Jawa Report | I Love Jet Noise | Ramblings' Journal | Outside The Beltway | Wizbang | Classical Values |
* * *
Previous Entries on Kenneth Bigley from Diggers Realm:
Two Americans And A Briton Taken Hostage In Baghdad (Sep. 16)
New Video Released By Zarqawi Of Hostage Kenneth Bigley (Sep. 22)
A New Video Of Hostage Kenneth Bigley Released (Sep. 29)
Recent Video Of Hostage Kenneth Bigley In A Cage Was Staged? (Oct. 2)
Kenneth Bigley Issued Irish Passport (Oct. 6)
Kenneth Bigley Beheaded [ Video ] (Oct. 10)