On October 9, 2006, a young Amy Kortlang was just beginning her life. That life was cut tragically short by a repeat offending illegal alien named Rafael Ramirez Perez, who after hitting her head-on while driving drunk, jumped out of his vehicle and fled on foot.
This monster was apprehended and later sentenced to 21 years. This is a crime that could have been prevented and Amy will always be remembered. She lives on in pictures and the memories of her family and friends.
How could this have been prevented? you may ask. Well here is the history of illegal alien Perez.
Rafael Ramirez Perez was convicted of DUI in April 2003 and given 12 days probation. Three months later in July 2003 he was convicted of once again driving under the influence. Neither time was he deported. Because of the inaction of our leaders, Perez was released and in February 2005 was convicted of DUI and sentenced to one year in jail. After serving his sentence he was deported in March 2006. Perez would not be deterred though. Perez re-entered the United States illegally once again, got a job, got drunk, got behind the wheel of a company truck and sped down the highway clipping several vehicles and ramming headfirst into Amy Kortlang's Honda Civic.
Those who claim that those opposed to illegal immigration are simply racist would have you believe that it is a victimless crime and that no one is hurt. Amy's story shows the truth though. Amy is who we are fighting for.
There have been more deaths at the hands of illegal aliens than were killed in the World Trade Center, yet while we spend billions upon billions fighting terrorism we refuse to put the truly necessary resources forth to prevent deaths like that of Amy's.
I ask that you remember her today and that she gives you the motivation to demand an end to the senseless killings in this country for someone's ego, career or profit.
You are missed, and not forgotten.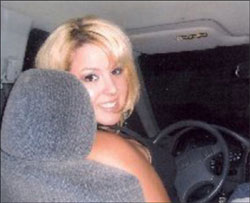 I hate to say it, but these types of things along with everything illegal aliens bring to the table will never stop. Writing on forums or other currently used methods WON'T WORK! Have they yet? After how many years?
Upcoming elections will have little effect no matter the outcome. Yes, if the dems continue control it will get worse, and if repubs gain control it 'might' get better but for a limited time, then back to the norm as usual because they are ALL the same.
I for one am sick and tired of being on the defensive side year after year, decade after decade!
I'm tired of getting lip service from those very same people who allow this to continue!
I'm tired of waking up every stinking day to stories such as this!
Every state should have followed Arizona! That right there would have been the shot heard round the world! That would have been the final nail! But no! All the other 49 wimpy ass states were to sceered! They wanted to wait to see what happened! That is what I call COWARDIS! They had there chance and blew it!
Something needs done or we will be forced to accept this invasion when these criminals are awarded protected class in the near future followed by amnesty. Then each and every one coming afterwards will also be a protected class!
How many times are we going to go through this? HOW MANY TIMES PEOPLE! How many borders of other countries are we going to secure and leave ours wide open! How many wars will we fight abroad while leaving our own citizens at risk! HOW MANY!
ARGGGGGGGGGGGGGGGGGGGGGGGGGGGGGGGGHHHHHHHHHHHHH!!!!!!
I apologize for my outburst and I offer my condolences to her family as well.
Posted by: Nightowl on October 11, 2010 04:22 PM