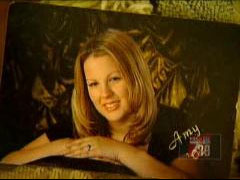 An illegal alien,
Rafael Ramirez Perez
, hit and killed
Amy Kortlang
, 22, after causing another accident that injured three others while driving drunk last week, then he fled on foot. Perez has 4 prior arrests in the US and was deported in March, 2006 only to sneak back into the country and kill a young woman while driving drunk. This easily could have been prevented if there was actual border security and if local law enforcement could have actually done something the first time this dirtbag was arrested in this country.
Amy Kortlang had just finished moving into her own place and was a cosmetologist. The accident occurred on State Route 67 when Rafael Ramirez Perez was seen driving at a high speed and passing cars in the southbound lane. He clipped a few vehicles with a company owned white 2000 Ford F-150 truck causing an accident that injured 3 before plowing head-on into Amy Kortlang's red Honda Civic killing her. After fleeing on foot, police tracked Perez down by contacting the registered owner of the vehicle, an unnamed company. This unnamed company should be fined and prosecuted as well for employing Perez and thus enabling this incident to occur.
Rafael Ramirez Perez received 12 days probation after being convicted of DUI in April 2003 and again in July 2003, both of which he pleaded not guilty to. Then in February, 2005 he pleaded guilty to a third DUI and was sentenced to a year in jail. Apparently with these arrests it was not found that he was an illegal alien, or if he was, he wasn't deported.
Finally, in March of 2006 he was deported to Mexico on to return and kill a US citizen while driving drunk again.
Tell me again why the hell we should allow illegal immigration to continue?

Rafael Ramirez Perez, 22, was deported to Mexico in 2006. Perez was in court ... in El Cajon for an arraignment in connection with Amy Kortlang's death

Emotions ran high as the family of the victim and the suspect watched Perez walk into the courtroom. Kortlang's family came to court with pictures of her and the crumpled Honda she was driving when she was hit by a drunken driver and killed last week.

Authorities said the driver took off on foot afterward. According to Kristian Troche, the deputy district attorney handling the case, Perez was that driver.

During the arraignment, Perez never looked at Kortlang's family or the few members of his own family who were in court.

...

Troche said that Perez was in the country illegally when he ran over Kortlang.

Kortlang's family members told NBC 7/39 that they had expected a video arraignment and was warned by the court that he would be there in person. The news was too much for some family members to bear.

"Rage, rage. I want my hands on him," said Melanie Kortlang, Amy's mother.

Thanks Mexico for sending us your low hanging fruit, Amy Kortlang's family and the rest of America really appreciate it.
Hey Casper, if the guy was NOT protected by a city like San Diego and a state like California (and many others) he might have been arrested in some Border Patrol sweeps. He is a criminal who should NOT have been here. His employer is also at fault for hiring an illegal. If they can't get jobs and we stop allowing them to use free social services here, they will not come here.
Drunk driving is a huge problem. Yet, when you are in a country, the citizens of that country will commit crimes. However, we should NOT accept Illegal Aliens coming here, PERIOD! Let alone committing crimes.
So, yes, while it is true that Amy might have been killed by a US Citizen, at some point in her life. Yet, NOT on that day. Had that Illegal alien been deported and we allowed the USBP/ICE to do their jobs and we had a state and city that did not protect the criminals from other countries who are here, which, 100% of them are criminals, she would be alive today.
Posted by: del061 on June 23, 2009 04:01 AM