Sabotage
May 12, 2010
ALIPAC Press Release
"Several national and local groups are dropping plans for a June 5 rally in Phoenix Arizona to unite with more groups on June 12 to form a larger rally in support of the state of Arizona, SB 1070, and the enforcement of our existing border and immigration laws.

Americans for Legal Immigration PAC (ALIPAC) and Tea Party Patriots Live decided to combine strength on June 12 to lower confusion about multiple events and to increase turnout and political impact."

…

"Organizations that are sponsoring the combined event on June 12 now include Americans for Legal Immigration PAC, Tea Party Patriots Live, NumbersUSA, Resistnet.com, America's Black Shield, 9-11 Families for a Secure America, NC Listen, Scottsdale Tea Party, Houston Tea Party Society, and Citizens in Action.

More national and local groups are joining the June 12 effort and an updated list will be released next Monday.

Congressman Steve King is one of the many guest speakers and other members of Congress are being invited to speak along with Governor Jan Brewer, Arizona Representative Russell Pearce, and Sheriff Joe Arpaio."

The press release caught all groups by surprise. Most of those listed had not confirmed and some had not even been contacted. Some leaders of the groups were livid. I don't believe that any of the speakers had even consulted with Gheen, or if they had, they certainly had not given a 100% confirmation as they were already confirmed for the June 5th rally.
The publishing of this press release was an absolute sign that Gheen wanted full control of the event and top billing. The AgainstAmnesty.com website is mentioned twice in the release, but none of the other groups are given any credit or links other than one link to ALIPAC. ALIPAC was also listed first in the sponsors.
Emails and complaints flooded the message boards, websites and Facebook groups asking why the 5th was off.
Leaders of groups were forced to send out emails reassuring people that the 5th was not cancelled.
One group sent this to their members with this leading the email:
"ALIPAC's mass email this morning has created a lot of confusion in Arizona and nationwide"
This one act by ALIPAC should condemn them as a group with no credibility and no loyalty to anyone but themselves. They attempted to sabotage any event happening in support of Arizona that they were not in charge of. The oddest thing is that it would not stop there. Plenty of people I know were talking to Gheen and telling him to knock it off.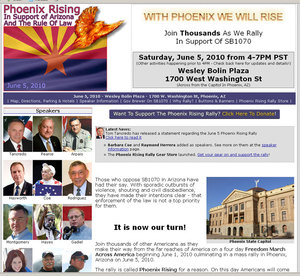 On May 13, 2010 The
Phoenix Rising
Website launched
Scrambling went on behind the scenes and the Phoenix Rising website was launched to combat the misinformation campaign put on by ALIPAC. People were directed to the Official Site to clear the air.
Word quickly spread, but the fallout would remain for days. Some people who don't check their email too often would come to groups days later or send out emails wondering what happened to the 5th and why it was canceled. Many had already purchased tickets and hotel rooms and some had taken off work.
Gheen for his part was trying to place the blame on Smeriglio. On his ALIPAC forum website he posted that "The June 5 organizer originally agreed to merge with more Tea Party groups along with our national organizations, but then reversed his decision after the plan was carved in stone."
Nothing could be further from the truth, as I was working on the Official Website and Logo and it was for the 5th all of the time. I was also in contact with many people at the time who were handling the top speakers. This was an outright lie from William Gheen.
Gheen and Smeriglio had split. Smeriglio took the high road and continued on his rally work. Gheen, well, not so much. He was planning to do one of the most dastardly acts I think I have ever witnessed.
Next: Ambush