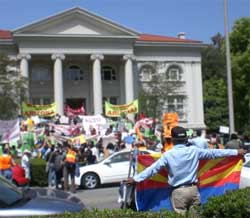 Nobody likes
Janet Napolitano
.
At a recent graduation ceremony where Napolitano was appearing to address students at Pomona College, there were protests from both supporting illegal immigration and amnesty and those fully opposed to it.
Illegal aliens and their supporters were protesting Napolitano because she won't back an amnesty immediately and call for a halt of all immigration raids. It is a simply laughable claim as they are calling for all laws to be ignored - and as can be seen in the video - they see it about race.
Patriots are protesting Napolitano because she is ineffective, inexperienced and won't enforce the law across the board. There were numerous signs in support of Arizona's new law SB1070, including Arizona flags.
Here is a report with video and pics from fellow brave patriots out in California with the group California's Crusader sent in by Patriot Robin.
---
Napolitano Protested At Claremont Colleges
Pomona College Graduation
Open Border Protesters Shout Down Napolitano Claremont, CA 5/16/10
Our goal was to be respectful toward the Pomona College students, their families and friends during the graduation ceremony - and to allow our signs to convey our message to Napolitano.
VIDEO: Walking to the rally site
Pomona College is a member of the five Claremont Colleges consortium. Department of Homeland Security Secretary Janet Napolitano was the Pomona College graduation keynote speaker.
In support of Arizona's new immigration law, we carried the Arizona flag (above left). The woman in the red robe (above right), we presume she is a faculty member, called us f...ers as she walked past. She set a very good example for a professor of letters.
[Videos and Pictures Continued Below]
We arrived early and staged on the public sidewalk, near the outdoor graduation ceremony.
There was a tarp around the graduation area, but we could hear the speakers perfectly. There were a lot of secret service agents, police officers and security guards since Napolitano was present.
We listened as the ceremony proceeded, waiting for Napolitano to begin her speech.

The open border protesters, led by Pitzer College Professor Jose Calderon1,
had widely publicized that they would protest Napolitano two blocks away from the college, at Shelton Park, but this proved to be a lie....
Pitzer College is also a member of the Claremont Colleges consortium. Pitzer College held their graduation ceremony the day before. However, Pitzer College Professor Jose Calderon (above) organized a loud, disruptive protest even though he was protesting one of the sister Claremont Colleges - Pomona College.
Last week, three activists submitted information packets to the President of Pitzer College and launched an official Professor Jose Calderon complaint. We shall follow up with another college report/complaint after documenting and photographing Professor Calderon orchestrating yet another near-riot as he disrupted the Pomona College Graduation ceremony.
HUNDREDS OF NOISEMAKING PRO-ILLEGAL ALIEN PROTESTERS ARRIVE
Raymond Herrera, holding the Arizona flag - in support of SB 1070 - welcomed the pro-illegal alien protesters, as they arrived. They shouted down the graduation ceremony speakers and Napolitano.

As we had arrived first, we enjoyed the prime location near the graduation site as the pro-illegal alien group stood across the street, in front of Carnegie Library. Although the graduation ceremony proceeded, speakers were drowned out by the noisy protesters.

In a surprise attack, the pro-illegal alien group swarms. Since we had already claimed the area next to the graduation site, the open border protesters had to stage across the street, in front of the Carnegie Library.

Arizona flag vs protesters.

As a group of protesters lagged behind the departing group, several police officers posted with us. A heated exchange of words followed

PROTESTERS DISRUPT NAPOLITANO SPEECH AND GRADUATION CEREMONY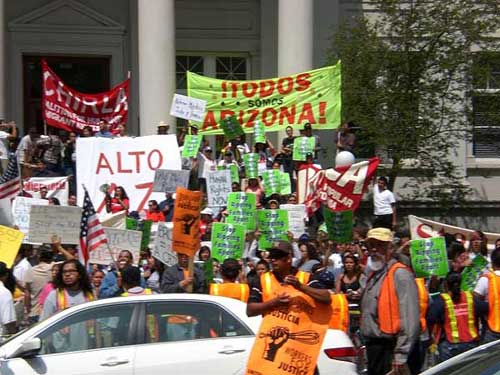 Protesters denounced Napolitano and Arizona's new immigration law.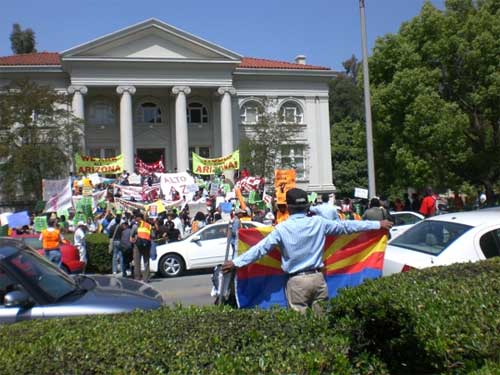 Protesters staged across the street from the graduation as we had established our site first, next to the graduation area - we had the prime spot.
When the protesters arrived, the man in the green shirt (above center), also arrived and stood among us filming and pestering us. There was also a lot of newspaper and TV media conducting interviews (above right).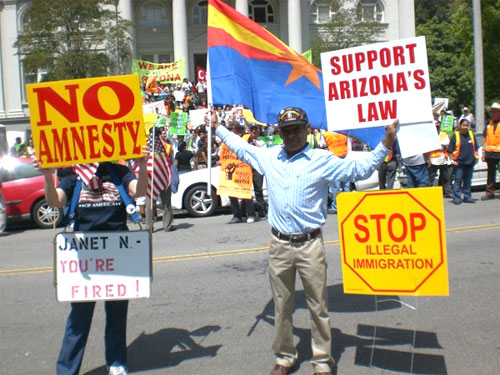 A Pomona College student pays about $100,000 in tuition. The open border protesters disrupted the graduation for the students and rendered portions of the commencement unintelligible via whistles, drums, chanting and clapping.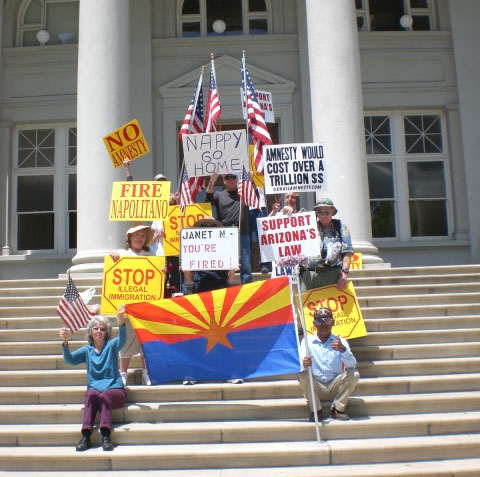 BUYCOTT ARIZONA California's Crusader Petition
Call the Department of Homeland Security comment line and tell Janet Napolitano to secure the border, prosecute employers who hire illegal aliens - DEPORT!
Support the Arizona immigration law. DHS Comment Line: 202-282-8495

Call your congress member - NO Amnesty - Support Arizona's immigration law. Find your congress member here

Contact Information
~~~~~~~~~~~~~~~~~~~~~~~~~~~~~~~~~~~~~~~~~~~~~~~~
We The People California's Crusader
Sources:
[1] http://www.pitzer.edu/academics/faculty/calderon/
---
Thanks for the awesome report!