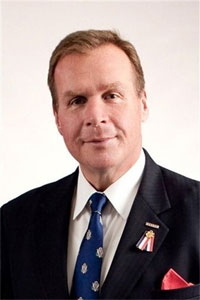 JD Hayworth
, the immigration enforcement candidate, has moved up 10 points in the last 30 days against pro-amnesty incumbent John McCain in the Arizona Republican primary senate race. Obviously conservatives in Arizona have had about enough of McCain - and his faux-conservative views - and are finally throwing their support behind a more conservative candidate.
A new Rasmussen poll shows that Hayworth is at 41%, with McCain at 48%. Momentum is on Hayworth's side.
McCain for his part has tried to slander Hayworth with falsities pointing to groups that have endorsed him. Regarding illegal immigration, McCain put out a press release claiming that the group Americans for Legal Immigration PAC (ALIPAC) was funded by the KKK and racists. McCain received this data from sources like the Southern Poverty Law Center - a pro-amnesty and anti-American group known for falsely dubbing those against illegal immigration as racists and groups of hate.
The fact that McCain would stoop to this level of attack and try to brand his opponent as a racist using false information should make everyone in Arizona's ears perk up. Flat out lies are what McCain is basing his campaign on. McCain was co-author, with the late Ted Kennedy, of the McCain-Kennedy amnesty bill. After Hayworth entered the race McCain tried to claim that he has never endorsed amnesty. Something that should make anyone over the age of 3 fall out of their chairs, as it was only a few years ago that he sponsored the bill in the senate.
I believe that issues - like a firm stance for enforcement of immigration laws - are what are driving Hayworth up in the polls. Arizonans have lived with McCain for the nearly 30 years and have realized that now McCain has gone too far to hide his liberal tendencies. There were even rumors just prior to September 11, 2001 that McCain was thinking of switching to the Democrat Party. That all changed after the terrorist attacks, but McCain's beliefs have not and Arizonans are coming out of their slumber.
You can support JD by going to the JD Hayworth for Senate website.