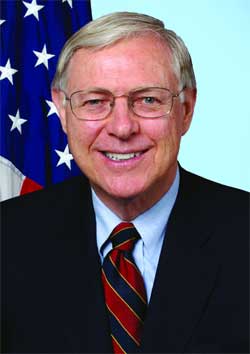 One county in one state, that is what Los Angeles County is in the grand scheme of things. Just one county among the 3,100+ that encompass the whole of the United States. This one county though is facing an unparalleled burden of shouldering over $1 billion dollars per year in spending on illegal aliens and their children. This number does not even include the costs of education and other expenses not mentioned in the report below by Supervisor Michael D. Antonovich.
LA County spent $50 million in January alone for food stamps and other welfare services. That's per month. Lets calculate this... 50 x 12, $600 million, then add in the $500 million for the health care mentioned int e report below and the $350 million for public safety... I have no problem stating that the true numbers are probably more than $1.5 billion annually - still not including education. And that's just public spending through the government, imagine the private costs people are paying in terms of higher insurance rates to cover all the illegal alien drivers without insurance who get in accidents... or the expense people are paying due to being victims of identity theft when an illegal steals their identity to get a job or housing (and the depression that occurs when you get a tax due notice from the IRS for monies you didn't earn).
So it's $600 million a year now eh? I've been following this trend for a while. In April 2007, LA County reported that illegal aliens were using $35 million per month in CalWorks and Food Stamps. By August 2008 that number had crept to $37 million per month. A year and a half later it is now up to $50 million per month. If you've been hearing that illegal aliens are leaving the United States, you're being lied to. The numbers prove out the truth.
This is all fraudulent monies obtained by illegal aliens and if there is a mass amnesty passed for illegal aliens this number is surely to triple or quadruple. I kind of wonder exactly how friendly Los Angelenos are going to be to their new legal residents when they bring their whole families to the county and push that number above to $3-$4 billion per year. Of course people who live there are not thinking logically or thinking ahead. Many of them are sympathetic supporters of illegal aliens. If they thought parts of Los Angeles were bad now, wait until a tripling of public service users hit their county.
Education expenses can't be ignored though as they are so large as to dwarf any talk of the costs of enforcing immigration laws or building a border fence. illegal aliens cost California nearly $9 billion a year in education expenses, according to a 2004 report from the Federation for American Immigration Reform. A report from the same group in 2005 entitled "Breaking the Piggy Bank: How Illegal Immigration is Sending Schools Into the Red" put the national costs - not include free and low cost lunches or English as a Second Language (ESL) - at $28.6 billion per year. Mind you these reports are years old and the population of illegals and their children has grown substantially.

Supervisor Michael D. Antonovich released figures from the Department of Public Social Services showing that illegal aliens' children born in the United States collected more than $50 million in welfare benefits (CALWORKS + Food Stamps) for the month of January.

Approximately 23 percent of all CALWORKS and food stamp issuances in Los Angeles County are made to parents who reside in the United States illegally and collect benefits for their native-born children.

"When you add this to $350 million for public safety and nearly $500 million for healthcare, the total cost for illegal immigrants to County taxpayers far exceeds $1 billion a year - not including the millions of dollars for education," Antonovich said.