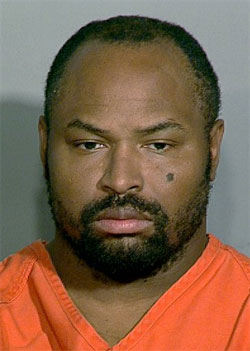 Mike Huckabee
, while governor of Arkansas, commuted the 95-year sentence of
Maurice Clemmons
nearly a decade ago. Clemmons entered a coffee shop in Lakewood, Washington on November 9, 2009 and gunned down 4 police officers and is currently on the run from law enforcement.
I have had disdain for Mike Huckabee for a long time. His weak kneed faux conservative views are sickening. Now he has had a hand in allowing a killer out on the streets when there was no reason to provide clemency for Clemmons. There were no mistakes in his case, yet Huckabee took it upon himself to free this thug with the thought that Clemmons received his 95-year sentence when he was young.
Huckabee is now scrambling to cover up his part in freeing Clemmons blaming it on the justice system and not on his own weak spine. As for Clemmons, he is scrambling too. Two pea in a pod...
Then there's the Washington state justice department, a typical liberal state, who thought it was a good idea to allow Clemmons to have bond set. he quickly came up with the $15,000 needed to secure a $150,000 bail and walked with only an ankle bracelet on. The bracelet was later found cut off. Four officers are dead, the public is at risk and many families are destroyed. This story sums up the bleeding heart mentality - and its results - in a nutshell.

Clemmons has an extensive violent criminal history in Arkansas. He also recently was arrested and charged in Washington State for assaulting a police officer, and second-degree rape of a child. Using a bail bondsman, he posted $150,000 -- only $15,000 of his own money -- and was released from jail last week.

...

Clemmons, 37, who had a lengthy prison sentence commuted by former Arkansas Gov. Mike Huckabee nearly a decade ago, became the prime target Sunday in the search for the killer of Lakewood Police Sgt. Mark Renninger, 39; and Officers Ronald Owens, 37; Tina Griswold, 40; and Greg Richards 42.
...

On Sunday, Huckabee deflected blame with a statement on his Web site.

"Should he be found to be responsible for this horrible tragedy, it will be the result of a series of failures in the criminal justice system in both Arkansas and Washington State," he wrote.

Note he doesn't state the series of failures that he is responsible for, like letting this criminal with a 95-year sentence free on society.