| | |
| --- | --- |
| By / May 12, 2009 08:19 AM | |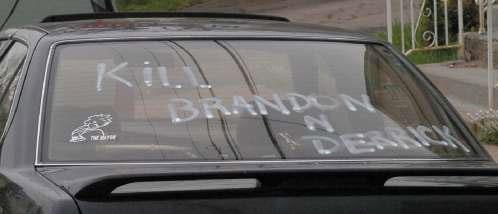 The true hate of those in favor of illegal aliens and those for the "Hispanic race" could care less about the rule of law and decisions based on evidence in a case, and have now decided that it is their right to kill those who have been acquitted of murder. The case against Brandon Piekarsky and Derrick Donchak in the death of illegal alien Luis Ramirez in July 2008 has been held up by the pro illegal alien groups as proof that there are roving racist gangs in America just looking to kill illegal aliens.
Unfortunately proof in the case was weak and the outcome of the trial shows that the incident was actually just a fight that was perpetuated by both participants, the teens and Luis Ramirez.
Pro-Hispanic racist groups took this so far that in December 2008 they included Luis Ramirez in a filing with the Organization of American States (OAS). The OAS is a group that is trying to claim some jurisdiction over the sovereignty of the United States. They used Luis Ramirez in a filing entitled "Latinos Not Protected In US", as an example of the hate against Latinos in the United States. The ruling in the Piekarsky/Donchak case threatens their claims - and they are none too happy.
The Standard Speaker recently got a photo of the car above in Hazle Township that apparently thought that vigilante justice is in order since they don't agree with the ruling and has called for the death of the two teens Brandon Piekarsky and Derrick Donchak.

The verdict also angered some people. This week, the back window of a car parked in Hazle Township read, "Kill Brandon 'N Derrick." The same vehicle has a decal of a cartoon character urinating on the words, "THE MAYOR," a possible reference to Hazleton Mayor Lou Barletta, who championed the city's anti-illegal immigration law nationally.

...

"Kill Brandon 'N Derrick" is written on the back window of a dark-colored Nissan Maxima parked at Winters Avenue and Crab Apple Lane in the Greenview section of Hazle Township on Tuesday evening.

Tipped by: PA Pundits


This entry is in the following archive(s):
Next and Previous Entries:
Posted by Digger on May 12, 2009 08:19 AM (Permalink)

That is why I carry a mace and a sweet box
cutter.Bring my bigots on....
Posted by: la pinga cagada on May 19, 2009 08:45 AM
If illegal aliens want to avoid death, they should go back to their home countries and stop being parasites upon the United States.
Posted by: George Taylor on May 24, 2009 04:27 PM
So, this message was displayed on a personal vehicle and the owner was charged with terroristic threats? Way to drop the ball, Hazle Twp. PD. I hope someone destroyed that car in the middle of the night since the police won't do anything.
Posted by: USMCRich82 on May 28, 2009 08:04 PM
Where is the outrage for the death threats against these American young men? Over 10 percent of Mexico's population is in the U.S., that sounds like an invasion to me.
The truth of the matter is, that if the victim had stayed in his own country he would still be alive. Illegal immigrants come here, get financial and social aid and can even own property. Americans can not by Mexican law even own property in Mexico, regardless of financial ability. Wake up or learn to speak Spanish.
Posted by: P on May 29, 2009 11:36 AM
Digger, heads up on another story, semi-related to the Shen case. Know how the feds are trying to stymie the Shen boys through federal civil rights charges? Well, those black panther guys who were hurling racial insults at white people and intimidating voters in Philly this past election were let off, except the one, who is barred from having a weapon at a polling location for 4 years.
http://papundits.wordpress.com/2009/05/29/its-okay-to-intimidate-voters-if-youre-black/
Posted by: Turtle on May 29, 2009 03:12 PM
It's very simple. I teach my kids that all whites are the same. it's just a matter of hides it better.
But we have to keep it civl. I'm sure none of these people commenting on this site are native americans. so why bother talking out of there ass. I graduated first in my class in college, and play for a little league world championship / National championsip team.And many white folks see my son, and they want to teach and coach, little that they know that will never happen. I jsut get what I want .Regards, Nigger from brooklyn
Posted by: Puertoricanfrombrooklyn@hotmail.com on June 17, 2009 11:03 AM
Chances are great that one or both, will either get badly maimed in prison, brutally raped in prison, or beaten so badly that their parents will visit them in the hospital while they are in coma for two days... before dying from their injuries. I hope #2 then 3.
Posted by: Aish on June 17, 2009 09:25 PM
Hi "boys" what goes around comes around. I hope you boys enjoy the next couple of years. I wouldn't be to quick to use racial slurs, though. By the way you both make me sick.
Posted by: Brandon-n-Derrek sitting in a tree on June 18, 2009 01:06 AM
Nothing excuses the threat written in that car window. Interesting to note, however, that the police involved in the investigation are now charged with a cover-up. http://www.msnbc.msn.com/id/34438315/ns/us_news-crime_and_courts/
A family member grew up in Shenadoah. Back then it was Irish and Italians and Polish fighting over who were the better Catholics. Time to grow up everyone. Racism is just a way to keep working class people from uniting against those who are *really* screwing them over.

Posted by: Orlando J. on December 16, 2009 10:43 AM
Its time to declare war on Mexicans. Who cares if its racist. Mexicans are the most racist people on the face of the earth these days, so who cares if Americans don't like them. I hope many of you who are making comments on here that you want to these two kids to get hurt in prison, yourself's get killed. You want a war? Step into the light chicken shits motherfuckers. USe your real names on here instead of hiding. I dare you....see what happens
Posted by: Ben Saunders on October 3, 2010 07:59 PM
The car picture is so fake... I'm sure it's a photo of your auntie's car taken outside your garage, Digger!
Posted by: Rupestre on October 14, 2010 10:33 PM
The fact of the matter is that these 2 punks come from a one-horse, redneck town. They thought they could literally get away with murder because of the blind support they had. I live in Bucks County, but everyone knows that Frackville and surrounding areas are notorious for being racists. I am thrilled to pieces that justice is being served. The argument that "if he had stayed in Mexico, he would be alive"....absolute bullshit. He was a human being, regardless. Are you kidding me? So if he was legally in this country, what would your argument be? Get real...and may you reap what you sow.
Posted by: Charlene on October 15, 2010 02:41 PM
Stupid comment Charlene. Regardless of what you think of the verdict in the 1st Trial, they cannot be tried for the same crime again. The Feds once again do not care about the Constitution and neither do you or you're simply to stupid be able to comprehend it.
The evidence from what I have seen tells me they had no pre meditated intent to commit murder. Do you know how what murder in 1st or 2nd degree is? Doubtful. At worst, the evidence shows they were guilty of manslaughter (involuntary)
Posted by: Mark on October 20, 2010 01:47 AM
these kids are killers, and deserve to spend the rest of their lives getting what they deserve from other criminals.
Posted by: teri on October 23, 2010 05:06 PM
the war is coming boys and i dont like to lose
Posted by: steppin up on August 11, 2012 07:23 AM