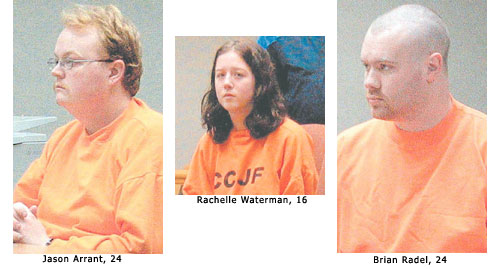 Image from 2004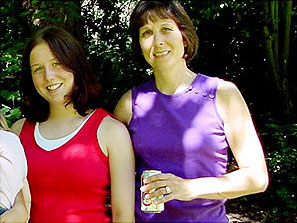 Rachelle Waterman
, a blogger who was accused of having her mother Lauri killed, is set to go on trial in September, 2009. I first reported on the
Rachelle Waterman case
4 1/2 years ago and didn't really keep up on the results of the case as it drew out. At the time Rachelle was 16 and her two "boyfriends",
Brian James Radel
and
Jason Allen Arrant
were 24.
The case was that Rachelle had the two kill her mother. After planning the killing for months, they decided to stage it as an accident. Radel at 6 feet 5 inches, 250 pounds dwarfed Lauri Waterman's 130 pounds. He attacked her while she was asleep, tied her up, threw her in the back of her minivan and drove her to a bridge in a logging area where he killed her. Their plans to stage it as an accident were abandoned at some point. They did however place Lauri's body in the van and set it ablaze.
"Just to let everyone know, my mother was murdered"
Not that her mother had been in an accident, or was missing, but that she had been murdered.
Tom Miller at the Ketchikan Daily News just sent me this info on the new indictment. Rachelle, who is now 20, was recently indicted again and faces a new trial in September.


Rachelle did have a mistrial in this case and the judge made a decision to throw out her confession. The prosecutors appealed and much, but not all, of the confession was restored. A second grand jury has indicted her again, recently, on mostly similar charges of conspiracy to commit first-degree murder and lesser charges. She is to be tried again, this time here in Ketchikan, in the fall.

Here's some info on how the first trial turned out 3 years ago.

Rachelle Waterman was charged in Juneau in January, 2006, with seven counts, including first degree murder and conspiracy. This could have meant up to 99 years in prison.

The jury deadlocked, voting 10-2 to acquit Rachelle and stalling there. The jurors don't seem to have put high stock in Rachelle's own credibility. But most of them found Arrant's damning testimony even less persuasive, and, curiously, they were also unconvinced by Rachellle's own confession, believing that it might have been coerced by the state troopers and did not definitively prove that she played a part in planning her mother's murder.

The presiding judge, Patricia Collins of the Superior Court, ultimately threw the multi-count indictment out—and ruled that the videotaped confession was not admissible as evidence. The prosecution could have appealed, but never did.

Rachelle was released after the mistrial.

Rachelle Waterman, who is now 20, pleaded not guilty to seven counts, including first-degree murder, at Tuesday's arraignment in Ketchikan for the 2004 death of Lauri Waterman.

A grand jury indicted her last month three years after her first trial ended in a hung jury.