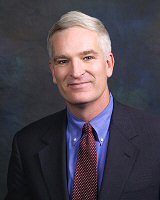 In a press conference held today in Lake County, IL,
Sheriff Mark Curran
detailed the results of the 287(g) program they applied for back in December, 2007. If you'll remember back in July 2007 there were protests in Waukegan, the county seat of Lake County, in favor of that city implementing 287(g) and
it passed
. The whole of Lake County followed suit later that year.
The most staggering of the statistics that Curran announces, in the video below, is that 21.5% of the criminals now in his jail are illegal aliens. And that half of the murders in Lake County were committed by illegal aliens. Curran stated that the annual expense for Lake County inmates costs the taxpayers $18,869,513 per year for all inmates. He then went on to state that illegal aliens in the jail are currently costing them an annualized rate of $4,056, 945. It's insane that the people of Lake County are footing the bill for this on top of also being the victims of these criminals.
Money alone however is not the only statistic Curran noted. They provided names of foreign born prisoners to ICE as part of the 287(g) program to determine their legal status in this country. Of the 137 names given to ICE, 122 of the names came back as "illegal or questionable entry status". After ICE interviewed the 122 inmates, 75 inmates - 61% - were served with immigration detainers, the remaining inmates had offenses that did not warrant them being placed in removal proceedings under 287(g). 8 of those detained were eligible for prosecution under federal law for reentry after deportation. Under the 287(g) program only violent offenders can be placed under deportation detainer.
This is exactly the reason why groups in favor of illegal immigration are fighting so hard to stop 287(g) from being implemented in towns. It exposes the truth that taxpayers monies are not only being spent on illegal aliens in vast amounts, but illegal aliens are coming here and victimizing American Citizens in their own neighborhoods.
A little snapshot of some of the crimes committed was given by Curran, some inmates had multiple charges - here's how they broke down. Not inclusive of all charges, just a snapshot.



DUI - 25


Aggravated DUI - 24


Sex offenses - including rape and rape against children - 22


drug offenses - 18


murders - 7 - there were only 14 murders in Lake County during this period, half of murders committed by illegal aliens


Burglary - 7


Gun offenses (not including murders) - 4


Theft - 3


Home Invasion - 3 - That is invading a home knowing their are occupants inside


Robbery - 2


Other - 7


Curran elaborated on why he chose 287(g) in response to what he said was harsh and unfair criticism. I've transcribed it below:
"I sought 287(g) status because I believe that I had a sworn oath to uphold the United States Constitution. The federal government never would have enacted 287(g) if it did not want the assistance of local law enforcement agencies.

I heard the frustrations of citizens throughout Lake County as they were victimized by illegal aliens ... I am able to say to these concerned and frustrated law abiding citizens of Lake County that the Lake County Sheriff's Office is doing its part to stop the terror inflicted by many of these illegal aliens."

Thanks to the Freedom Folks for providing the video below.