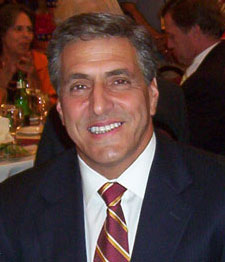 Mayor Lou Barletta
of
Hazleton Pennsylvania
has opened a sizable 9 point lead in his race against 11 term incumbent
Paul Kanjorski
. Barletta was so popular in Hazleton that he won the Republican and Democratic (by write in vote) primaries for his current term as mayor. Kanjorski said in a recent interview that taxpayer dollars were "free money" [
see the video here
].
This should be a lesson to all those who are pandering for the Hispanic vote and think that supporting illegal immigration is the way to get it. Barletta has been fiercely opposed to illegal immigration, introducing the Illegal Immigration Relief Act (IIRA) in Hazleton that would have fined landlords who rent to illegal aliens, and been outspoken on following the rule of law and what is right for the citizens of his city.
And it has paid off.

How powerful is the immigration issue with voters in Northeast Pennsylvania?

Just ask Democratic U.S. Rep. Paul Kanjorski ... who is now in serious jeopardy of losing his seat to an anti-immigration upstart.

A new Franklin & Marshall poll shows that Lou Barletta, the Republican mayor of Hazleton, has opened a sizable nine-point lead on Kanjorski, even though the economically depressed district is leaning toward Democrat Barack Obama in a year when few Democrats in Congress are seen as in jeopardy.

But the new survey offers ample evidence that Barletta's outspoken views on illegal immigration are putting the GOP candidate, who ran against Kanjorski in 2002 and lost, on the brink of an upset...

The Franklin & Marshall survey of 547 registered voters in the 11th Congressional District found Barletta at 44 percent to 35 percent for Kanjorski, with a large number (21 percent) still undecided. And 17 percent of the voters in the heavily blue-collar district say that immigration is their most important issue in the election, with an overwhelming number of them backing Barletta.

"This is an incumbent who right now is having a serious problem," said G. Terry Madonna, director of Franklin & Marshall's Center for Politics and Public Affairs. He noted that in a district full of socially conservative Democrats, Kanjorski is getting only about half of his own party's voters.

Go Lou!
Donate to the Lou Barletta campaign. Let's help throw the bums out!