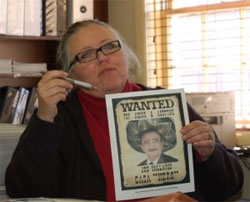 Something is rotten in Maryland and it goes by the name of
Delegate Joseph Vallario Jr
. Vallario is a supporter of Casa De Maryland a group that supports illegal aliens.
Susan Payne is the founder of the Maryland Coalition for Immigration Reform that opposes illegal immigration. Recently Payne pointed out Vallario's support of illegal aliens and made a poster with Vallario with a sombrero on his head saying "Wanted for aiding and abetting".
Apparently this was too much for Vallario to handle and he has now banned her from appearing and testifying at any hearings in order to speak out against proposals supporting illegal aliens. Susan had waited for 6 hours to testify that day. This is a direct violation of Susan Payne's first amendment rights to free speech.
Vallario said that the poster "crossed the line". Well I think not. I could think of many posters that would be "crossing the line" and they would include Vallario being bent over.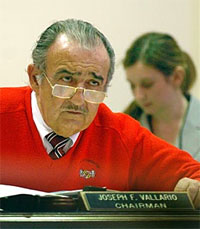 Below you will see a video of Joseph Vallario addressing a crowd at a Casa De Maryland event and receiving an award from them. Vallario says in the video that he still can see the picture in his mind of the "Hispanics" when they flooded the house judiciary floor of the building and demanded their rights as illegal aliens in this country. This is the type of man that is and will sell out this country.
Vallario is a cowardly person who would use any tact he can against those that disagree with him to shut down the debate and allow illegal immigration to continue in Maryland and throughout our country. We should all be outraged at his actions and give him a piece of our mind and demand that he be removed from office for a knowing direct violation of Payne's freedom of speech rights.
You can contact Joseph Vallario at: 1-800-492-7122 Ext. 3488

Del. Joseph F. Vallario Jr., the Prince George's County Democrat who has long chaired the House Judiciary Committee, has been targeted all session by activists fighting illegal immigration in Maryland. A YouTube video clip featuring Vallario speaking at a recent immigrant rights rally has been circulating [see below]...

Last week, things got really ugly at a hearing in the committee on several bills to deny rights to illegal immigrants.

Susan Payne of Montgomery County had distributed a flier modeled on a "wanted" poster, featuring a doctored photo of Vallario wearing a large sombrero. "Wanted for Aiding & Abetting," it was headlined, and it called him a CASA "Hero." Many on the committee, including the chairman, said the flier crossed a line.

...

Vallario said he was disgusted by the flier and testimony and told Payne that she was no longer welcome to testify. "I just would not pass out this propaganda. It was intended to intimidate, harass and ridicule," he said.

Payne said she left the hearing room in anger.

"Mr. Vallario censored me," Payne said. "He did not want people to know the kind of pandering he's been doing to CASA." She called the flier a "political cartoon."

The funny part is that the poster is true. He should be wanted for aiding and abetting illegal aliens. Seocndly, he is a hero of Casa De Maryland, even they state that in the video. As for tacking a sombrero on his head, well that's been done centuries when it comes to pointing out a politicians stance on an issue in a humorous manner.
Vallario sees himself as a dictator and it needs to be put to an end.
(Video Below)