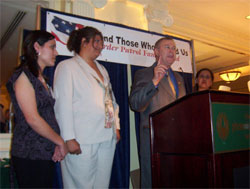 You simply do not want to miss the Free Ramos and Compean rally this Saturday April 26, 2008 in front of Dana Rohrabacher's office in Huntington Beach, California.
I have seen Rohrabacher speak and it truly is an inspiration that one day there will be justice for these two agents.
If you are in the area I urge you to take the time this Saturday to head out. You will not be disappointed. Rohrabacher is to speak at 11AM so be early.
Time:
April 26, 2008 - 10:45 AM - 1 PM
Location:
In front of Congressman Dana Rohrabacher's office
101 Main Street, Suite 380
Huntington Beach, CA 92648
Image is from my coverage of the Ramos and Compean Dinner in Washington DC last year.
Tipped by Reader Robin.