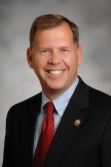 Frederick County Commissioner Charles Jenkins
has put forth a proposal that will be looked at this Thursday making English the official language of the county. This would force the county to use English in all government business and end the money currently wasted on doing government business in many languages.
This is common sense when it comes to saving money and I don't understand why more counties aren't doing it. It's the right thing to do for their taxpayers.
As for Charles Jenkins, this is another proposal he has put forth that I agree with. If you'll remember back in September, 2007 Jenkins put forth a bill that would overturn a 1982 Supreme Court decision, "Plyler v. Doe," that allowed illegal aliens public education. And in October he put forth a proposal to end some county services to illegal aliens. It was narrowly defeated by a vote of 3-2. And again in January, 2008 he put forth legislation to fine people who get building permits and hire illegal aliens. Keep it up Jenkins and I'll have to add an archive category for you just to keep track of these actions you are taking.
Is this man the only one looking out for the taxpayers money in Frederick County Maryland?

Republican Commissioner Charles Jenkins' proposal will be discussed by the five-member board at its public meeting Thursday in Frederick.

The proposed ordinance would declare English the official language of the county government and require that all county government documents be written in English.

Tipped by: Inside Charm City

The argument will be that he is "xenophobic" because he doesn't want to spend the county's hard-earned money accommodating people who will not accommodate themselves.
It's easy to anticipate the left's reaction to this. They follow the same nonsensical script every time.
Posted by: likwidshoe on April 23, 2008 11:17 AM
It is great when people know other languages and other cultures, but come on, we are living in the U.S.A., where the official language should be English. If you go to another country, it is best to speak that other language. Now, there are alot of people in this world speaking English, but you will be better off if you spoke the language of the country you visit or live in. I got fed up and tossed those politicians at brick at bricktoss.com, and you can to.
Posted by: Cabster on June 18, 2008 06:46 PM