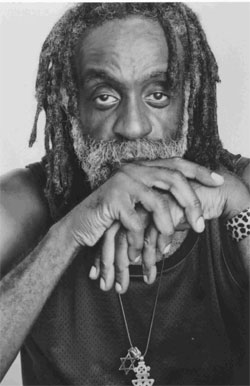 Ted Hayes
, arguably the most outspoken black man in America when it comes to illegal immigration's impact on the black community, has jumped into the California 35th district congressional race. Hayes has been active in the fight for the rights of homeless people for years. In 1993 Hayes founded the
Dome Village
. A community of 20 geodesic domes setup for homeless in Los Angeles.
Hayes is the co-founder of Crispus Attucks Brigade which states as its main goal to "move American Blacks peoples to take their rightful and dutiful role to stop illegal immigration into the United States of America." The group compares the current influx of illegal aliens as the new slaves in America and says that no black person should be in favor of it.
In addition, Hayes is the National Chair of Choose Black America, a group of advocates of choosing Black Americans for jobs instead of illegal aliens. They also stand against the impact that illegal immigration is having on the education system and its impact on the black community.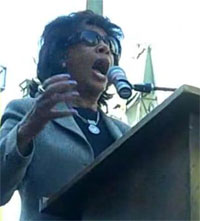 Maxine Waters
Loves Illegal Aliens
Hayes is taking on
Maxine Waters
who has served the 35th district since 1991.
Maxine Waters has one of the worst immigration records
in the whole House. Waters is horrible at border security and interior enforcement. She has voted in favor of in-state tuition for illegal aliens and for education, welfare and health care benefits for illegal aliens. She has voted for the visa lottery and chain migration to continue.
I have met Ted Hayes personally. He is a true patriot. While me and Ted don't agree on everything, I fully support his run for the 35th congressional district in California.
With the presidential contest looking like it will come down to two supporters of amnesty, we, the American people, need to get behind congressional reps who will stand up for us!
If you'd like to help Ted Hayes he is all set up to accept donations please head to his website and you'll find the donation link at the top of the page.