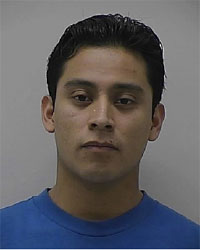 Erickson Isai Pretzintzin-Suchi
Following up on the story of the
14-year-old student at The Hun School who was sexually assaulted
by illegal alien janitor
Erickson Isai Pretzintzin-Suchi
.
Illegal Protest
has called and received further information on the custodial service that hired the illegal alien.
Sky-Hi Custodial Service has been used by The Hun School for 6-7 years according to Bill McQuade who heads the Hun School. According to Mr. McQuade the janitorial services company is still being used by the company even after the recent assault on one of their students and the obvious employment of an illegal alien.
McQuade also said they were not sure, if any, changes would be made at the school after this assault on one of their own.
It has been confirmed by Detective Sergeant Ernie Silagyi of the Princeton Township Police Department, that Erickson Isai Pretzintzin-Suchi has a previous warrant out by the Immigration and Customs Enforcement. The true identity of Pretzintzin-Suchi, who was using the alias Geovani Villagran, was discovered by the Supervisory Deportation Officer Marc Merchiore from ICE/Detention and Removal Operations in Marlton, NJ
Apparently this isn't the first run in with the law for Sky-Hi. According to a lookup on the Department of Labor. Sky-Hi was sued for underpaying employees and directed to pay $174,000 in back wages to employees. The company was not abiding by federal minimum wage laws and not paying overtime wages. Now they are also found to be hiring illegal aliens. Could there be a more corrupt company that isn't directly bilking investors out of money like Enron?
And before you think this is an isolated incident of corrupt business, you have to realize that things are run similarly by corrupt businesses all across this country in industries like landscaping, construction as well as the janitorial service business. These companies are no friends to the American people. They treat their employee's horribly and they put Americans at risk because they don't screen them for either illegality or criminal pasts.
The Hun School reportedly charges $26,960 annually for students, $36,190 if they reside on campus.
So it appears that even at our so-called elite and best schools in this country that illegal immigration is now rearing its ugly head. You figure with the amount of money this school charges they could at least do a little looking into who they hire and who is roaming their school premises.
Sources: 1