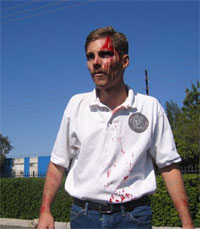 The Canoga Park Home Depot was the site of the recent attack on Dennis Slater, founder of
No More Invasion
. You may remember the picture at the right from my coverage of the
attack on Slater by illegal alien day laborers
.
Well these patriots aren't backing down!
Slater will return to the Canoga Park Home Depot this Saturday, December 8, 2007 with other patriots to continue to confront Home Depot on actively supporting and promoting illegal immigration in this country. They will be standing up against the continued violence committed by illegal aliens not just in Canoga Park, but throughout this country.
Dennis Slater is simply one victim of many that have suffered physical violence at the hands of illegal aliens. How much longer are you going to sit back and watch this ridiculous tragedy occurring in our nation? Are you going to wait until it is you who are the victim? If you are in the area I urge you to go and stand with Dennis and play a part in ending this madness!
Here are the details:
Date and Time:
Dec 8, 2007 - 9:00am-12:00pm
Location:
Home Depot
21218 Roscoe Blvd
Canoga Park, CA 91304
(818)348-9400
Things to bring: Flags, signs, legal self-defense, bullhorns, water, and your passion!
Below is from the announcement for the event. I urge you to head over to the No More Invasion forum post for more information.


For over a year now, NMI and other patriots have been going to Canoga Park Home Depot on the weekends to inform employers about hiring Americans instead of illegal aliens. We have spent many hours there and have received support from other patriotic groups and the local citizens.

However, Home Deport has continually refused to address the issue of safety regarding letting day laborers congregate in and around their parking lot. We have had several assaults on our members occur here because of this. We should not, as Americans, be assaulted for exercising free speech. On November 3rd, Dennis, our group founder, was attacked by numerous day laborers in broad daylight in the Home Depot Parking lot. This was a frightening and disgusting occurrence that may have never happened if Home Depot had any care for their community.

If Home Depot didn't have such blatant disregard for this country and our laws, we wouldn't have to express our freedom of speech there and risk being attacked.

I stand with you in spirit from the east coast NMI!