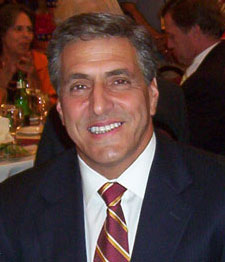 Few people in America have the absolute popularity of
Hazleton Mayor Lou Barletta
- and even fewer politicians. Since taking a stand for the people he represents in this city in Pennsylvania over the issue of illegal immigration, Barletta has shot to into the national spotlight. Prior to taking on illegal immigration in his city, Barletta oversaw a great economic growth that brought a surplus to the community after running a deficit.
Barletta just won his third term as Mayor of Hazleton with 89 percent of the vote in an area dominated by those registered as Democrats (5,771 Dems to the GOP's 3,509). He was so popular that he was not only the Republican candidate, but beat out all of the Democratic candidates in the Democratic primary through write in votes. Barletta has run for Congress before. In 2002, Barletta ran against a Democratic incumbent Congressman Paul E. Kanjorski. He lost that bid.
Many are now wondering if this great man will run for Congress again, Governor or even President. Some have even set up websites calling for Lou to run for Congress such as LouForCongress.com
The Times-Leader has an excellent article out on who Mayor Lou is, his family, his upbringing and some on what he is thinking of regarding a run for higher office.
While Barletta remains humbled by the spotlight, he realizes this notoriety would be beneficial should he decide to seek a higher office.

"One big difference is this time I can raise a lot of money," Barletta said. "Not only in the district or the state, but nationally."

And, he's not counting it out.

"I'd be lying to you if I said I wasn't considering it," Barletta said. "But I have been considering a lot of options. I have received and continue to receive many calls from supporters who want me to run for several different positions. I am overwhelmed by all of this and I will tell you that I am considering all of them."

...

"I wouldn't do this because I think I can win," Barletta said. "I would do it because it would be something I want to do and that I would be good at."

His need to make a difference motivated him to run for mayor in 1999 instead of seeking re-election to council.

"I had to be the mayor," Barletta said. "I realized if I was going to effect any real change for the city, it had to be in a position of leadership. And here I am."

If Mayor Lou was running for President I would vote for him this time around. There is nothing but spineless politicians running that are simply worried about stupid "one-liners" and tricking people into making them think they will do something. With one exception of course, Tom Tancredo. But Tom Tancredo, while he would do something about the illegal immigration crisis we are facing, simply doesn't have the charisma and proven track record of running a business and turning a town around from a deficit to a surplus. Lou Barletta has all of that and more.
Go read the whole article above. You can also watch an interview I had with Lou Barletta one night while having the pleasure of dining with him and some speeches of Lou Barletta that Ruth and I covered earlier last month.
Tipped by: Carmen Morales of You Don't Speak For Me