During a news conference in Storm Lake, Iowa, former Mexican President Vicente Fox claimed that opponents of illegal immigration are increasing violence in American cities and that groups like the Minutemen and news personalities like Lou Dobbs are involved in the violence.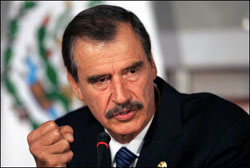 Scourge of the United States, Vicente Fox
You did read that right, Lou Dobbs is violent, according to former Mexican President Vicente Fox.
That coming from one of the most worthless and corrupt politicians of our generation. This man comes to America, denounces it and demands that we bend over and allow our sovereignty to be dissolved so that people of his race can receive more money.
There has never been a proven case of violence by the Minutemen and no charges have ever been filed against Lou Dobbs for physical assaults or violence against illegal aliens. That is what you get in this day and age though from people without a leg to stand on an issue, unproven statements and libelous slander.
That is why I am going to protest this scumbag near Hazleton, Pennsylvania on November 5, 2007 when he comes to speak. Come and join me.

Iowa Independent


Playing on the schoolboy "sticks and stones" rhyme, former Mexican President Vicente Fox says words can hurt the Mexican people.

...

During a weekend news conference held as part of a two-day visit to Storm Lake, in northwest Iowa, Fox said the anti-immigration rhetoric from some U.S. public opinion shapers is not only driving a policy debate but fanning hatred and even violence. In fact, Fox singled out CNN's Lou Dobbs, known for his strong views on immigration.

"There is confusion that immigrants are terrorists, which is absolutely false," Fox said at Buena Vista University. "The decision process is being guided by the xenophobics, the Minutemen in Arizona, the violent, and I'm sorry to say violent like Lou Dobbs."

Fox, who served as president of Mexico from 2000 to 2006, said language used by some anti-immigration forces spawns more violence than what results from those who, in Fox's words, would be "using the stick."

"There are many using violent words like Lou Dobbs, which is moving public opinion to divide, which is bringing in violence to local communities," Fox said.

Vicente Fox could not state one single actual case of violence caused by the Minutemen or Lou Dobbs, because there have been none. Meanwhile our fellow Americans in California are assaulted on a regular basis when they go out to peacefully protest against illegal immigration. The hypocrisy is clear if you look at the violent actions along Mexico's southern border during Vicente Fox's reign of terror.
WHAT anti-IMMIGRATION rhetoric is he referring to? I listen to Lou Dobbs every night and have yet to hear anything anti-IMMIGRANT!
Fox is playing games. He purposely mis-uses the term immigrant knowing there are stupid people listening. We have gotten so tired of correcting this persistent lie that we have stopped correcting but we must remain diligent and call them on their lie every time they pull this stunt.
On his previous TV appearances he used the term "migrant," don't let that one throw you. Very well, call them illegal migrants (actually a better term as immigrant has the sound of permanent residency, not what we want since we want deportation).
Posted by: Ken Pope on November 4, 2007 11:32 AM
Violence: vehement feeling or expression: fervor; also, an instance of such action or feeling.
That is part of the actual definition, as you can see when an individual speaks of the word violence one specifically does not refer to the violent term everybody is associated with. There is an obvious lack of communication that was infringed by the words used by ex-president Fox; however, just like there is a difference in accents and words used in different parts of the U.S. there is bound to be some form of misunderstanding in languages.
He refers to the fact that this inadequate frustration is going further than many have intended, because of individuals who bend the information and revive the "yellow press" techniques that were used in order to evoke extremely harsh emotions.
I immigrated to the United States 12 years ago. I had no saying in that decision. I feel it is extremely important for you be able to get a glimpse of the other side of the story, rather than just be lead into this narrow path of uncertainty, and misinformation.

I have been living here in the U.S. over 12 years and I can proudly say that I LOVE this country. It is the land of opportunities, happiness and greatness, and unlike the image you have of every immigrant, I am an individual who has never been in trouble in any form, has always been an outstanding student, currently studying to become a pediatrician, but most importantly I am out there in the community seeing the successes of various groups of people who just want to belong, who want to be able to fit in to this American life style filled with joy, and success; to later radiate and share those joyful emotions with others.
You are right I will not disagree entirely; I do understand that there are crimes committed by non-citizens, but 100 percent of immigrants who do not commit those crimes will also agree, that they don't want those criminals near their neighborhoods. Why? Because what you have to remember that "immigrants" are also people who come from all over the world, who have children: children who know no other life. Children who are raised to appreciate the new country which has granted them the opportunity to be here, children who see that the harsh conditions one lives in is not adequate for them or their families. Children who incorporate themselves into this country because this is the only land they know.
I feel that it is adequate that we ALL, see both sides of the story. "Education is the Key to truly understanding," the education that I refer to is not found in a book, or in an article on this website.
The education I refer to is only found in the real world we live in, in this current 21st century. It is in front of you, every time you drive to star bucks or to a restaurant go to the theaters or drive to another state. It is your community, so I urge you to please do some community service activities, please go out there and see various points of view before you make any conclusions, and meet others who may not be in the same social status, who may live in a different neighborhood, be from different ethnicities because we are ALL unique and different.
The editor of this website can easily just delete this comment, as if it had never been written. However; if he is truly just and fair, he will allow it to be posted, and make people make their own judgment.
Thank you for your time:

God Bless

Posted by: miguel on November 26, 2007 06:48 PM