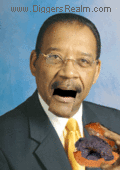 Senator Ruben Diaz
Eating Crap Sandwich
New York State Senator Ruben Diaz has the quote of the day today, having to swallow his pride and "eat crap" as he puts it, after New York Governor Eliot Spitzer backed off giving illegal aliens the same drivers license as citizens.

"He didn't consult us before, he didn't consult us now," said state Sen. Ruben Diaz (D-Bronx). "He let me go on the Senate floor and make a fool of myself. Now I have to take the time to stand up, eat crap and apologize. Eat my pride."

Aww, poor baby.
Tipped by: Freedom Folks
I used to like Obama until i read his stance on immigration. Check this site out:
http://www.whois-barack-obama.com
There is a candidate comparision there. Check that out. Pretty interesting. I never thought i'd say this, but the republicans may actually get it right where immigration is concerned.
Posted by: Tiz on October 30, 2007 04:59 PM