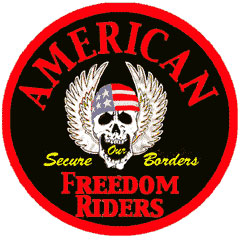 The
American Freedom Riders
are holding their 2nd Annual "Brotherhood of the Border" ride and rally in Phoenix, Arizona on October 21, 2007 in support of
Border Patrol Agent Nick Corbett
and demanding that our borders be secured.
Show up early and have breakfast.
There will be a band and Speakers at the event will include: T.J. Bonner, Glenn Spencer, Al Garza, Cindy Kolb, and Randy Graf
Here's from the American Freedom Riders website:
Ride starts at Arena Bar, 250 Prickly Pear in Benson, Az. at 11:00 am. Ride the beautiful country thru Tombstone and Bisbee to the Palominas Trading Post near the Mexican border. Phoenix group will stage at the Love's Truckstop on Wild Horse Pass Blvd and I-10 and leave at 7:00 am. This is a long ride but a fun ride and the AFR wants you to join them to send the message to

"FREE THE BORDER PATROL"

We will get back to Phoenix around dark. Patriots in autos are welcome to join the riders to make their voices heard.

For more information head to their website above.
It sounds like a good time, so be there!

hello to all, I'm so happy that there is someone in AZ that stands up to this issue and have felt this is something that needs to stop and I would be happy to support all that you are doing,(Carefree Highway and I17 freeway,AZ) (Born And Raised Northern Minnesota US citizen, Red/White/Blue Forever !)
Posted by: Michael Stoskopf on March 26, 2010 12:22 PM
I beleve in freedom for all Americans. I think it is time we put God back in schools. I was not able to go in the military, I'am disable but I want to do something for my country. I think when people that is on death roll should be put to death we could save tax on feeding them and at the same time put fear in those who do wrong. People who come into our country illegal should be sent back to their country one time if they come back they should be to death. They come over and take our jobs and the American people can not feed their family. I think it is time the American people should take a stand. And do what is right!
Posted by: William Proctor on January 21, 2012 04:20 PM