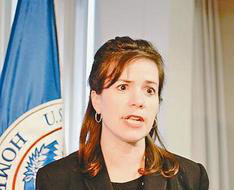 Julie Myers
was reconfirmed as the head of Immigration and Customs Enforcement (ICE) last week with only one dissenting vote, from Senator Claire McCaskill (D-MO), among the nine who voted. As we all know by just looking around Julie Myers is doing "a heckuva job". I mean since her recess appointment two years ago the number of illegal aliens in this country - and businesses that hire them - has continued to decline dramatically. Taxpayers across the United States have been showering her with letters thanking her for saving their tax dollars and protecting their family from vicious gangs, criminals and drunk drivers that had previously streamed across the border with no worries of being arrested once they get into this country.
Of course all of that is a farce. Under Julie Myers even more businesses have started based around the premise that they'll just hire illegal aliens with no real concern for being arrested. No business owners have gone to jail yet. The number of illegal aliens in our country has skyrocketed. One illegal alien, Elvira Arellano, openly stayed in a church for a year to avoid deportation with no action by ICE.
A recent Digger's Realm poll found that over 82% of respondents felt that Julie Myers should not be reconfirmed.
I can think of few people that would do a worse job than Julie Myers. Congressman Luis Gutierrez and Senator Mel Martinez come to mind, as well as Los Angeles Mayor Antonio Villaraigosa. All three of them are serious traitors to our country who would - and are actually actively trying to - sell out America for their race or a quick buck.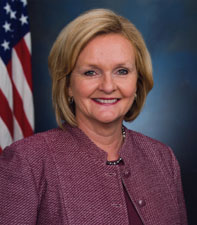 Senator Claire McCaskill
Here is a perfect example. For weeks Senator McCaskill has asked for ICE to send her a list of employers who have faced legal action for hiring illegal aliens. What was Julie Myers response to her requests? Myers said that ICE doesn't break out their statistics like that. What kind of hogwash is that? You don't keep track of how many employers you are taking action against? What kind of incompetent management style is it to ignore basic statistics that you, as the head of a government agency, should know outright. There are more people on the Internet keeping track of their statistics than there are in house it seems and that is because of her complete incompetence as a manager. Finally acquiescing, Myers provided McCaskill with a number
the night before the vote
. Her stall tactics seem to have worked as McCaskill didn't have time to pass the numbers around to show how little Myers has done.
Myers was appointed by President Bush over a recess after she faced serious questions on her qualifications a few years ago so that she wouldn't have to face a confirmation hearing. Myers is the niece of former Chairman of the Joint Chiefs of Staff General Richard B Myers and married to John Wood, former chief of staff to Department of Homeland Security head Michael Chertoff.
Cronyism knows no bounds.

Sen. Joe Lieberman, chairman of the Senate Homeland Security Committee, said interviews with dozens of government officials and advocacy groups show that Myers has become an effective manager.

"She is described by co-workers and others as a talented executive with a strong work ethic and good management abilities," said Lieberman, who had opposed Myers in 2005. "I look forward to continuing work with her to tackle ICE's many difficult problems."

The only dissent came Sen. Claire McCaskill, D-Mo., who complained that Myers has not shown enough interest in tracking how many employers are prosecuted for hiring illegal immigrants.

McCaskill has spent weeks asking the agency to reveal the number of employers who have faced legal action for hiring illegal workers. But Myers has said law enforcement statistics do not break out records that way.

Late Tuesday night, the agency finally sent McCaskill a list of all 716 people charged with immigration violations in the most recent fiscal year. McCaskill claims the list will show the Bush administration has not seriously pursued employers who break the law.

"All you have to do is glance at the list and you do not get a good feeling that employers are being held accountable," McCaskill said.

Other Commentary: