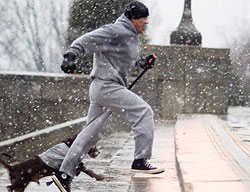 That's right,
I'm moving to Philadelphia
, Pennsylvania to fight illegal immigration. I'm sure many of you don't know this, but I separated from my wife months ago and am once again a single, free spirit. Well, my spirit is in fighting illegal immigration and let's face it there's nothing going on up here in Rochester, New York. Sure, there's the occasional farm out in nowhere that may hire an illegal immigrant, but there is simply no movement up here because the invasion hasn't reached this far yet.
So, I have made the decision to move 5-6 hours south and take the fight to them. I am no stranger to moving around, having been a military brat and in the Navy, so it's not that much of a big deal to me. My past week in Philadelphia visiting Valley Forge and meeting people in Pennsylvania fighting against illegal immigration like Mariann Davies of You Don't Speak For Me, has reinvigorated me and brought the fire back to my belly when it comes to fighting for this country. I've been covering illegal immigration and fighting it for over 5 years with this website and through active protesting like at the Hold Their Feet to the Fire event in DC this past April.
While I've had some success at getting some things done, I feel that I simply haven't done enough. That is going to change and it will change rapidly as I will be rallying and protesting outside the Mexican Consulate in Philadelphia this Saturday July 21, 2007 for Ramos and Compean and against illegal immigration. I'll be putting a post up on that soon, so if you are in the area join me! (Update: click here for the post and information on the rally)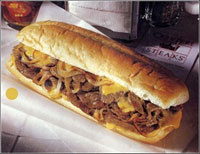 As for Philadelphia, I don't know much about it. It's one of the birthplaces of our nation, the home to my favorite American
Benjamin Franklin
, the one time home of Edgar Allan Poe, Philly Cheesesteaks, the Liberty Bell,
Joey Vento
,
Maggie, John
and a slightly more personal reason,
Ruth
("Ahh hah! Now the truth comes out!" you say. "There will be no further comment on this subject at this time" I say ;) ). And of course one of my most beloved movies "Rocky". Rocky holds a special place in my heart, not just because it shows the human spirit and American spirit, but because I am actually related to the original Rocky, Rocky Marciano.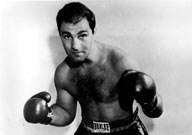 Rocky Marciano was one of the best heavyweight champions of all time. He had fists of stone and is the only heavyweight champion to retire undefeated with a record of 49-0 with 43 knockouts. You can read more about my distant cousin at the
Rocky Marciano Official Website
. Of course Rocky wasn't from Philly, but what difference does it make, the fictional character based on him was.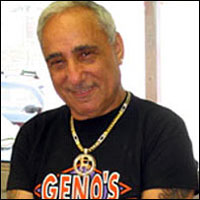 So, will Digger be running up the steps of the Philadelphia Museum of Art? You bet your damn ass I will!
I'll do it with passion and enthusiasm because there is only one life and you must live it to the fullest. If that entails getting a sense of enthusiasm, pride, happiness or pure joy from something that seems frivolous to others then so be it. And then I'm gonna go out there and fight the good fight against illegal immigration and for America... just like Rocky would.
See you in Philly in a few days!