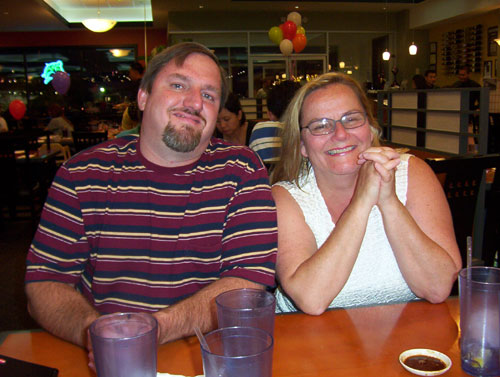 I'm still in the Philadelphia area and Saturday July 7,2007 I had the pleasure of meeting Maggie and John of The Unsolicited Opinion on Blog Talk Radio. Maggie and John are active in the protest community here and along with Ruth of Illegal Protest, they help organize and take to the streets rallying against illegal immigration.
Maggie is a bold woman who tells it like it is and doesn't hold back. Ahh, how I love people like that! John was slightly more reserved, but had a great wit and sense of humor. I'm just glad these two patriotic Americans are on our side.

We had dinner at the
Mikado Japanese Sushi Restaurant
. Now I have never had sushi even though I spent 2 years in Japan while in the Navy. Every time we were going to go for sushi in Japan there was a line down the street and the wait times were really nasty. So, I tried out a bit of everything at the Mikado having Ruth guide me. I tried some tuna sushi and salmon sushi and all kinds of weird stuff. I bypassed the calamari - as I only like fried calamari and even then I'm not a huge fan - and the octopus which looked a little unappealing. Ruth had the octopus and I think it disagreed with her as she didn't feel so good later on, but she got over it.
The only thing I really didn't like was eel. I took a half-bite and decided that was enough for me.

I had a good time and we discussed lots of immigration related issues and the potential for putting together some closer knit coalitions. One funny moment was when discussing a single person protest website and naming it
Solo Protest
, but John quickly pointed out that that could be misconstrued as someone with a deep hatred of Han Solo and so that discussion was shelved.
As you can tell a whole lot wasn't accomplished, but we had a good time accomplishing nothing.
We did talk about Maggie possibly doing some talk radio. She hasn't really kept up with the Internet show in awhile and I berated her for it. OK, I didn't really berate her, but you know, kinda nudged her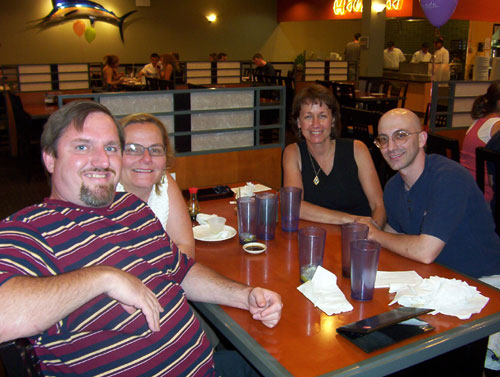 On the left: John and Maggie. On The Right: Ruth and Digger
I certainly had a good time and maybe you'll be hearing more from Maggie in the near future.