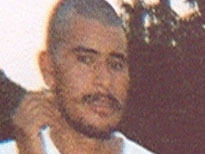 A man "suspected" of being an illegal alien raped a six-year-old girl and then fled. The man goes by multiple names including that given by police
Saul Rodriquez
, neighbors know him as
Roquel Lucas
and family says he is
Rocael Herrera
. All three names don't show legitimate identification issued in the U.S. He is 25 and didn't show up for work at his temporary agency when police were waiting.
If you see this scumbag report him to Crimestoppers at 1-888-559-TIPS

"The hardest thing for me is that I was asleep. May daughter had just gone outside to get something to drink," explained the victim's mother. "He saw her. He coaxed her into going into another room, told her, 'Come here come here, I'm gonna show you something.' And when he finally got her in the room, did what he did with her, my daughter started bleeding and crying and he told her, 'You were like that when you came here and you better not tell anybody. Don't tell your mother, your uncles because if you tell anybody, I'm going to kill you.'"

Rodriquez is 5 foot 8 inches tall and weighs 150 pounds. He has black hair and brown eyes. He was last seen on Cedar Ridge Lane. Rodriquez is employed at temporary service in Newberry, but did not show up for work today.

Deputies believe he is here in the United States illegally.

Just think if the Senate Immigration Bill passes we can all shake Saul Rodriquez's hand after he gets his Z Visa and is here legally!
Let's give amnesty to all the illegal aliens here, even the ones who are criminals and go by 3 illegitimate names. After all who'll know the difference...
... other than the future victims.
Tipped by: Inside Charm City

The temporary employment agency, that hired the asshole, needs a swift visit by ICE, to have their records siezed. The ownwer, manager, employees, tempories, and the clients the temps are farmed out to, need to be investigated for immigration law violations. People need to go to prison for this breach of the public trust.
Posted by: borderraven on June 19, 2007 01:06 AM