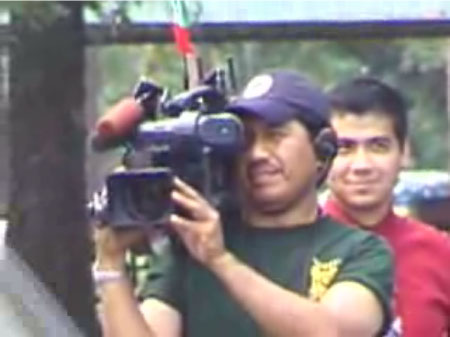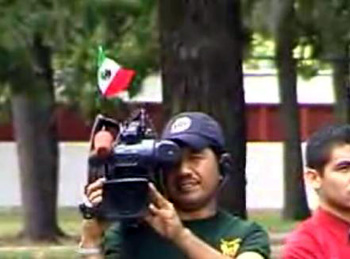 People keep bugging me to post this picture of Houston's KPRC NBC channel 2 cameraman who had a Mexican flag attached to his camera. They were all outraged and whining "Digger look at this it's an outrage!"
You know why I didn't post it? Because if you don't know by now that the main stream media is in favor of illegal immigration you are blind. How soon people forget such stalwart and unbiased reports as the "Tom Brokaw Reports: Illegal Immigration" from back in December, 2006. Plus I was busy reminding people about people killed by illegal aliens, which I considered a little more important at the time.
So let's us look over this story, so you people will get off my back. Sheesh. (I'm joking! Man you people have thin skin! Stop emailing me now!)

KPRC News Director Skip Valet told WND the cameraman's flying of the Mexican flag broke station rules.

"It violates our policy, because we're always objective observers of these situations," Valet told WND. "We don't take sides in news stories; we cover them. That policy was clearly violated."

OK let me stop right there so I can catch my breath after laughing so hard. These stations were salivating at the chance to show the hard working illegal aliens stomping on American taxpayer's streets. They had these sob stories and coverage all lined up. So much so that CNN sent Anderson Cooper across country to cover them. They pretend this was all unplanned coverage.
The cameraman has been disciplined, Valet said, but he could not disclose details, because it's a personnel matter.

Valet said the employee is a legal U.S. citizen who has been with the station for about five years. He went to cover the event by himself, the news director said, with the exception of an intern.

So if he's been there for five years how much other slanted coverage has he put out and why hasn't he been fired if they're so concerned about being objective? Obviously he has an agenda for the Mexican people first, so all past and future coverage is questionable. Don't worry though, they'll talk to him and all will be solved.
A female voice from among the counter-demonstrators then is heard shouting angrily into a bullhorn.

"We are going to let Americans across the country know what you have done today. You are a disgrace, you need to be shut down. … "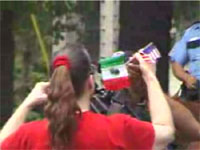 And therefore I do my part.
Below you will see videos of the traitorous cameraman. In the second one his camera is being adorned with an American flag by an American patriot!
A hearty shout out to U.S. Border Watch who caught this video and were the counter protesters in Houston. You guys are my heroes.
Save Our State sends over the contact information for KPRC
general newsroom phone number is 713-778-4910.
The newsroom fax number is 713-771-4930.
The general KPRC Local 2 phone number is 713-222-2222
mailing address:
KPRC TV
PO Box 2222
Houston, TX 77252-2222
E-mail form online: http://www.click2houston.com/contact/index.html
Below is the video.