Noe Aleman, a 12 year veteran of the Border Patrol in the El Paso sector is the latest victim of US Attorney Johnny Sutton. Johnny Sutton is the one who put Border Patrol Agents Jose Compean and Ignacio Ramos behind bars for shooting a drug smuggler in the rear while fleeing back to Mexico.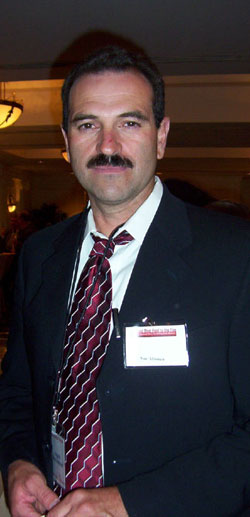 Noe Aleman, 12 Year Border Patrol Veteran
Now we have Border Patrol Agent Noe Aleman's story as reported to me by him at a dinner in support of Ramos, Compean and Gilmer Hernandez, all victims of Johnny Sutton.
Noe and his wife Isabelle planned to adopt their three nieces aged 13, 14 and 16. They hired an immigration attorney and over the course of the adoption they spent a total of $40,000 to adopt the three girls. Soon they were together and had a happy family.
Noe would head off to work everyday putting his life on the line in the El Paso sector patrolling the border and stopping illegal aliens, coyotes and drug smugglers. Time passed and they were required to file more papers regarding the immigration visas of the girls. Now here's where the story takes a wrong turn. It seems that the immigration attorney they hired was incompetent. So much so that the ages of the three girls were listed as 19, 20 and 21.
Things were a complete mess due to this error and the fact that it made all three legal adults and therefore the adoption questionable. The immigration office continued stalling for 6 months on their case and eventually their visa records expired. The girls were listed as illegal aliens.
One day when Noe went to the immigration office to find out what was going on he was arrested on the spot and put in jail with charges of harboring illegal aliens. The family was devastated and the three girls were picked up and placed for deportation.
The girls were sent back across the border and delivered to what they call "a dip" which is a Mexican orphanage. Noe and Isabelle have not seen the girls for over 2 years and Noe has been convicted by Johnny Sutton and now faces 6 months in prison at Yazoo City - the same prison where Ignacio Ramos is being held. He is expected to start his sentence within 30-45 days.
I looked this man and his wife directly in their eyes as they told me their story. I could see the sorrow in them. When I asked Noe about his thoughts on prison he did not show weakness, but only a sense of despair for the three girls and what they are going through. I could feel the sense of loss as they spoke about the lovely family they had while the three girls were with them.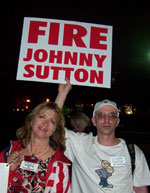 Diggers Screams
FIRE JOHNNY SUTTON!
At the White House
This is simply not acceptable!
This continued prosecution of our Border Patrol Agents by Johnny Sutton must stop!
I am outraged and you should be to!
How soon before they come for you?
There is an obvious agenda in Texas to absolutely destroy the Border Patrol in any way they can. Whether these orders have come down from the Bush administration or are being requested by Mexico is unknown, but day after day we are hearing about these Border Patrol Agents being targeted. Yes, targeted. These are not simply cases being brought for their actions, but they are being put under a microscope to find any way possible to have them convicted and imprisoned.
It's a damn outrage and it's about time we stood up and said enough is enough!