Below are pictures and video of the Dustin Inman Society organized protest in LaFayette park in front of the White House on April 22, 2007.
Be sure to see all the video in the full post of D.A. King, Lupe Moreno, Peter Gadiel, Frosty Wooldridge, William Gheen, Roy Beck, Mark Edwards, Rick Oltman, KC McAlpin and Roger Hedgecock.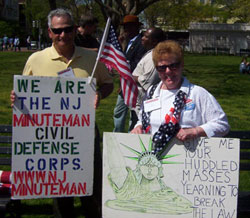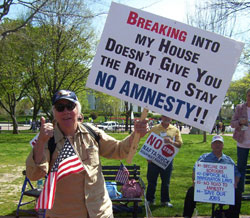 Click images to enlarge.
Videos below
D.A. King of the Dustin Inman Society (Part One Opening Remarks). Video shot by Ruthiness of Stop The Invasion
D.A. King of the Dustin Inman Society (Part Two Opening Remarks). Video shot by Ruthiness of Stop The Invasion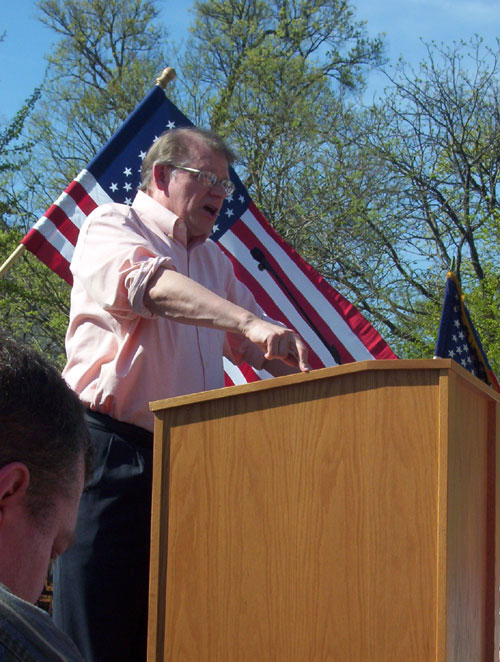 Roy Beck of NumbersUSA Video shot by Jake Jacobsen of The Freedom Folks
Mark Edwards of the Wake Up America Foundation Video shot by Jake Jacobsen of The Freedom Folks
Rick Oltman who helped push through Prop 200 in Arizona and currently works with Californians for Population Stabilization (CAPS) Video shot by Jake Jacobsen of The Freedom Folks
Roger Hedgecock of KOGO San Diego and founder of Hold Their Feet To The Fire Video shot by Jake Jacobsen of The Freedom Folks
William Gheen of Americans for Legal Immigration (ALIPAC) Video shot by Jake Jacobsen of The Freedom Folks
Frosty Wooldridge Author and Spokesman for Patriots Union of America Video shot by Jake Jacobsen of The Freedom Folks
KC McAlpin, Executive Director of ProEnglish Video shot by Jake Jacobsen of The Freedom Folks
Peter Gadiel of 9/11 Families for a Secure America Video shot by Jake Jacobsen of The Freedom Folks
Lupe Moreno of Latino Americans for Immigration Reform Video shot by Jake Jacobsen of The Freedom Folks
D.A. King of the Dustin Inman Society (Closing Remarks). Video shot by Jake Jacobsen of The Freedom Folks