The one thing you don't expect to happen when you head to Capitol Hill to address Congressmembers is for them to treat you with so much utter contempt that they would actually call the police on you. That is exactly what happened to a 5 member team of citizen lobbyists outside the offices of Luis Gutierrez on April 25, 2007.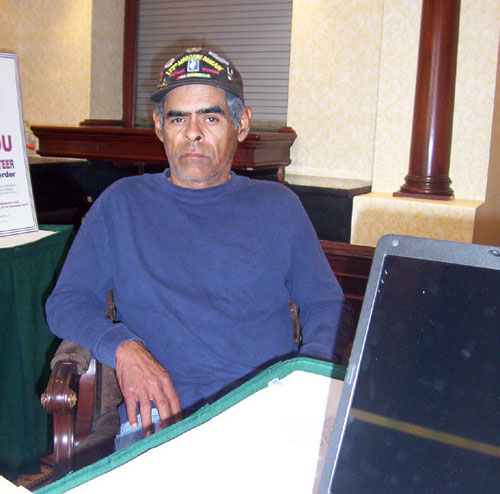 Raymond Herrera, Spokesman for MMP and Vietnam Vet, tells me his story
The 5 member team consisted of the spokesman for Gilchrist's Minuteman Project Spokesman (MMP) Raymond Herrera, MMP National Rally Organizer Robin Hvidston, a 79 year old married couple and a 56 year old female [the age and sex of the last team member has been edited after further information was provided - Digger]. While approaching Gutierrez's office they spotted Representative Grace Napolitano (D-CA) leaving Gutierrez's office.
Raymond Herrera called out to her "Why do you support illegal aliens?".
Napolitano hollered back while walking away "I don't have to answer you!".
Herrera then shouted after her "We want to talk to you about illegal immigration?" Napolitano quickly walked away ignoring them.
In the meantime, unknown to the group, apparently someone in the Gutierrez office had called the police. Staff members from the Gutierrez office then came into the hall and talked to the group and they all had a calm discussion. This apparently was a stalling tactic as soon after two police arrived on the scene and questioned the citizen lobbyists about the confrontation with Napolitano.
After determining the group was just exercising their right to free speech the police let them go and just cautioned them to keep their voices down. As they walked away though they were approached by a second set of officers and the two previous officers walked back to join them. The two new officers said that they would have to run a warrant check on all 5 of the members because an actual formal complaint had been filed against them.
The team of 5 were held for over 45 minutes and then released.
This is the kind of strong arm tactics you would expect from a police state, not those of the office of a United States Congressman.
I urge all of you to contact the offices of Grace Napolitano and Luis Gutierrez and file your own "formal complaint" against them for treating American citizens looking for answers like second class citizens.
Grace Napolitano can be reached at: (202) 225-5256
Luis Gutierrez can be reached at: (202) 225-8203