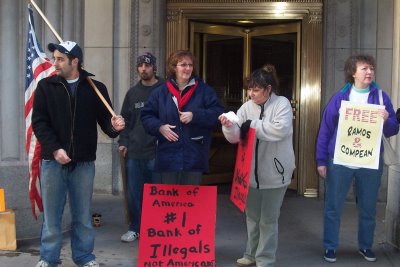 Jake and MJ over at the Freedom Folks have some pictures from downtown Chicago where the Minutemen Midwest and Chicago Minutemen took to the streets.
Operation Bankrupt was a nationwide protest on March 10 against Bank of America for giving credit cards to illegal aliens.

"We don't like it that our big business is selling out the American people to the illegals," said Lisa Fryslie.

...

Suzanne Gallago said the bank has sold out the U.S. by offering charge cards to illegal immigrants without requiring a Social Security card.

"Selling out the American citizens, because we're the ones that are going to end up paying for it," Gallego said.

It's part of Operation Bankrupt, says Sally Davis of Phoenix one of the more outspoken protestors.

"I support my fellow American citizens against Bank of America," Davis said. "They want to open accounts for the illegal aliens to rip them off, make money, like all the employers who want their slave labor."

Davis is a former Bank of America employee.

"Not anymore," said Davis. "I care more about my country than Bank of America."

Amen Sally. These businesses think we're going to somehow bow down before them and continue doing business with them and be loyal to them over loyalty to our country
As usual the illegal alien proponents and anti-American groups (funny how those two comingle so easily) showed up. Here's Jake's take:
At the same time we were rallying for the agents and against Bank of America's seditious activity the "bad guys" gathered in Federal Plaza to DEMAND amnesty, their term folks, not mine...

I'd ballpark attendance at 4-500, though at least half of the crowd were the usual suspects, socialists, communists, anarchists and general assorted cranks and lunatics.