The "Server Outage" edition in the continuing saga of interesting and thought provoking news from around the web.
After this weeks server outage I'm going to roundup some stories I, and you, may have missed.
This is a long one so go get yourself some coffee. Yes, only coffee is allowed as I hate tea and have since childhood.
There's sure to be something you've missed around the Blogosphere.
(All links open in a new window for faster cruising)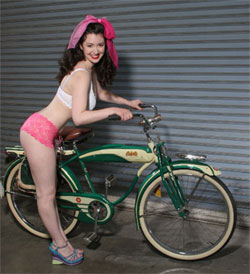 Have you taken a look at
Pinups For Vets
? To the right is my favorite of the lot. Go buy a calendar already and support our veterans.
Rachel at Tinkerty Tonk takes on Photoshop retouching. Then she takes a knife and gives the MSM and bloggers a good stabbing, first here with pics and examples and then here, over reports that libraries are removing the classics from the shelves (she should know, she's a librarian). Rachel really sticks it too 'em good, like in The Outsiders.

Freedom Folks points out What wasn't reported by the NBC program on immigration, which I reviewed, called Tom Brokaw Reports: In the Shadow of the American Dream. Including TB infestations, drunk driving deaths, hospitals put out of business, citizens killed and taxpayer dollars stolen. Joy!
Agent Bedhead passes along the rumor that Brit Hume is banging Megyn Kendall. Lucky dog!
Ace ruminates on word about the woman charged with malicious castration for inflicting a 50 stitch injury on a guy at a Christmas party. The kicker, she did it with her hands alone.
Alpha Patriot says Happy Anniversary Mars Rover Spirit as it begins its fourth year of operation. Amazing!
California Yankee covers Governor Bill Richardson winning the Albuquerque Journal's 2006 Cowchip of the Year Award
Pictures of a Minuteman Project Protest of Illinois Governor Rod Blagojevich over illegal alien incentives provided by Freedom Folks. (Link dead)
Captain Ed reports on how the French celebrated New Years, by having Muslim set fire to 313 vehicles throughout the country. I guess they couldn't afford fireworks.
Darleen on The new Indiana Jones movie supposed to be coming out in May 2008. Harrison Ford is 64. She also has a pic of her cute "daughter #2", Erin, who was born when Raider of the Lost Ark premiered.
EdWonk tells us not to miss the 100th edition of the Carnival of Education
Chad at In The Bullpen made some long overdue changes to his site design. Damn that old design was annoying!
The Jawa Report crosses 7 million visitors. Congrats Rusty Rusty's co-bloggers. :)
La Shawn Barber's condemning of Civil Rights leaders for not standing up to the recent uptick of Hispanic on Black crime and a plan in Florida to lower their IQ limit from 130 to 120 for gifted programs to "include more minorities". If that isn't an insult to minorities I don't know what is.
Michelle Malkin heading to Iraq to embed. Good luck and be safe Michelle!
Bill Ardolino of the INDC Journal files his first embed report from Iraq.
I cried when James at Outside The Beltway told me that with Santorum being kicked out, the Senate has lost it's "candy desk". Truly depressing for these poor souls.
Lee of Right Thinking From The Left Coast never is boring that's for sure. Ever sued a dating service for fixing you up with too many fat chicks? Well that guy has and Lee's "girlfriend" (he actually has a girlfriend? No freakin' way! He's way too much of an asshole to have a girlfriend! ;) ) has this reply.
Holy cow, Rob at Say Anything married a cutie! How the hell did he fool her into doing that?
Preston Taylor Holmes, yes the three names must be stated lest you be confused with the other Preston Holmes, brags about his ipod he got for Christmas. Big fuckin whoop! I bet he was happy when he got an 8-track in 1985 too.
Two of the Wizbang! bloggers bring us this important news. Kim Priestap has some really important child safety seat news to report and Jay Tea moved and stayed up for a whole 30 hours straight! (freakin' lightweight, that's a normal day for me) sandwiched between the Saddam hanging video and the latest hostage takings in Iraq.
Patterico does his annual Dog Trainer Year In Review, where he rips the LA Times a new one. A great read as usual! Good work Patterico!
A bra saves a woman from a bullet. Take that hippies!
Over at Decision '08 they name George Allen the Jackass of the Year giving John Kerry, Dennis Hastert and Ned Lamont honorable mentions. I personally would have given Jackass of the Year to You. That's right, I woulda freakin' been a pussy and copped out like Time Magazine did and just named You. Freakin' Jackass!
What would a 30-year-old j.d. of Evolution tell his 20-year-old alter ego? Oh and before you read that, note this great line from this other entry: "I mean, when you're talking about abortion wall-to-wall, who isn't having fun?"
Gary over at the Ex-Donkey blog reviews the documentary Blog Wars and continues his Diane Lane fetish with a great pic of her that made me sigh.
I laughed and cried as I read this recent piece on The Nose On Your Face entitled Viewer Sues After Surprise Appearance of John Madden At "Critical Moment" of Porn Video (with pic!)... Then I cried as I read the target="_blank">real transcript of Saddam Hussein's last moments. Here's a little taste of that:


Executioner: Saddam Hussein al Tikriti, we are here today to carry out your sentence of death by hanging for your role in...

Official observer: He's no dictator-tator-tator-tator-tator-tator-tator... He's no dictator-tator-tator-tator swing!

Executioner: Jamil! We went over this before. No taunting!

Official observer: Right, right. Sorry boss.

You really must bookmark and read The Nose On Your Face daily. Hilarious! Oh yeah, and head over to their store where you can buy t-shirts like this.
JimK at Right Thoughts gives us many of his cat pics.
Say Uncle likes Jillian Michaels. Personally I don't see it. Keeping in shape is good, but damn man, you could think you're sleeping next to a man if you bump into her in bed at night.
So Cal Law Blog treats us to a new sleek design and queries California's $200-Million Taxpayer. Who Could It Be? Apparently one single person settled with California. I'm not sure which of the contributors posted the entry (hmm need to add a byline to your new design there), but they go over some interesting things this money could fund such as that it could fund the Governor's office for 10 years and they also ruminate about who it could possibly be.
So that wraps up the "Server Outage" edition...
If you have a story that is interesting or funny and would like to be featured in the Diggers Realm "Around The Blogosphere" feel free to send a trackback to this post and it will show up below. (Please only send one trackback and you must also provide a link to this post, no blind trackbacks).
Trackposted to Outside the Beltway, Stop the ACLU, Don Surber, Stuck On Stupid, The Amboy Times, Conservative Cat, Jo's Cafe, Rightwing Guy, The HILL Chronicles, third world county, Woman Honor Thyself, The Crazy Rants of Samantha Burns, The Uncooperative Blogger ®, Blue Star Chronicles, Pirate's Cove, The Pink Flamingo, and Right Voices, thanks to Linkfest Haven Deluxe.