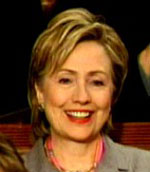 One of my Senators in Congress is Hillary Clinton. While Senator Clinton is well known, her activities and stance regarding immigration are less well known. Senator Hillary Clinton has been in office since 2001 as a Senator for New York. Hillary Clinton is a Democrat and has a horrible record when it comes to immigration reform. She has flipped back and forth between a hardline stance on immigration and a weak stance when speaking. I even
praised Hillary Clinton
at one point in December of 2004 for an article wherein she stated:
In an interview on WABC radio, she said: "I am, you know, adamantly against illegal immigrants."

"Clearly, we have to make some tough decisions as a country, and one of them ought to be coming up with a much better entry-and-exit system so that if we're going to let people in for the work that otherwise would not be done, let's have a system that keeps track of them," she said.
In the end though actions speak louder than words. As can be seen below in her scores, a lot of what Senator Hillary Clinton says she then doesn't follow up on with actions.
I recently received an email notice that CongressGrades.org recently updated her report card based on recent actions he has taken in Congress regarding immigration reform.
Items that they follow include reducing chain migration, cracking down on illegal immigration and limiting visa's to a reasonable level.
Hillary Clinton's career grade is a D- and his recent grade is a D-. She has a long standing failing grade when it comes to dealing with true immigration reform. She has semi-decent scores in interior enforcement and border control, but we need to go further and actually solve the problems. Hillary Clinton needs to do more on the other issues like chain migration and anchor babies.
| | | |
| --- | --- | --- |
| Immigration Item | Career Stance | Recent Stance |
| Reduce CHAIN MIGRATION | F- | F- |
| Reduce VISA LOTTERY | No Action | No Action |
| Reduce Unnecessary Visas FOREIGN WORKERS | F | F |
| Reduce Fraud REFUGEE & ASYLUM | No Action | No Action |
| Reduce Enticement for Illegal Immigration AMNESTIES | F- | F- |
| Reduce Illegal Immigration ANCHOR BABY CITIZENSHIP | No Action | No Action |
| Reduce Illegal Immigration OTHER REWARDS | F- | F- |
| Reduce Illegal Immigration BORDER CONTROL | C+ | C+ |
| Reduce Illegal Immigration INTERIOR ENFORCEMENT | C | C |
Hillary Clinton has a slightly better grade than my House Representative Louise Slaughter, but I'm still not thrilled with her record on immigration.
Immigration is only one issue to consider when voting. New York City has a massive illegal alien problem and Senator Hillary Clinton should be doing more to solve the issues there.
If my kid brought home these kinds of grades from school there would be some serious punishment.
You can find out more on your representatives actions regarding immigration at Congress Grades